B.
Getting some on you
Behind the scenes
From a talk given by senior curator Justin Paton at the opening of Roger Boyce's The Illustrated history of painting at Christchurch Art Gallery on 12 August.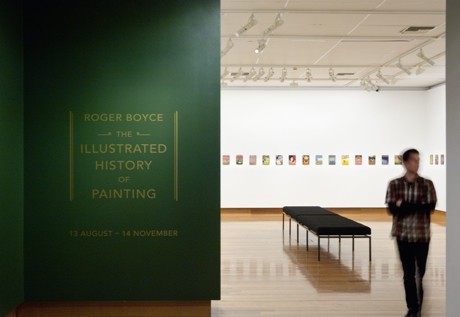 One of the things I like about having Roger Boyce's Illustrated History of Painting in the building is that you can smell the paint, almost. Short of Roger coming in and adding a few licks of paint today, there's no way these paintings could be fresher. And just as art history needs to ground its speculations in the facts and fragments of the studio, I think public galleries risk losing sight of what they're about if they don't keep at least one eye on what artists are doing in their studios. And although we have lit Roger's paintings carefully, and arranged them neatly, and painted the walls and provided a label, I like to think the show still emits an unruly kind of studio energy - the crackle art gives off when the artist has found out where they're going as they go; when they've ended up somewhere they couldn't have anticipated when making the first brushstroke.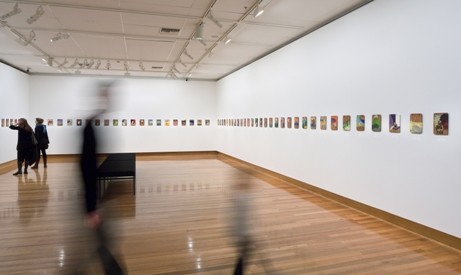 The paintings are fresh in the other sense - the American sense in which someone says 'don't get fresh with me.' They're full of attitude and comic energy, potshots and pratfalls, take-no-prisoners jokes. They're about the humour and the horror of being a painter in an age when no one's quite sure what painting's meant to do. They're about the way painters strive to make a mark on history but find themselves thwarted, or knocked back, or washed up, or outflanked, but keep on trying to fail better. They're studio-fresh paintings that are also about the studio - about the dreams of glory and the cold-sweat paranoias, the calamities and triumphs.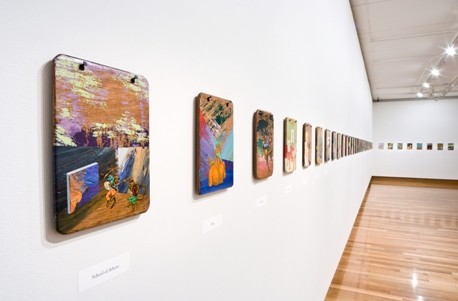 This might sound a bit bleak, and taken one by one the paintings sure do exhibit some bleak humour, with Boyce running a satirist's skewer through every myth and cliché he can see. But the more I see of the series, the less it feels like a straight-out satire at painting's expense. For a start, you can't miss the care he's lavished on each panel, rendering his scenarios with a devotional intensity that recalls medieval illuminations as much it does Mad magazine. But even more compelling is the sense of momentum-of comic glee and freewheeling enjoyment-that accumulates throughout the series. Like the best satirists, Boyce is clearly in love with the very things that piss him off, and he goes at the problems of painting with the headlong gusto of a stand-up comic who has at last found a topic large and annoying enough to take everything he can throw at it.
Keep throwing the coloured stuff Roger. And everyone else, please get upstairs and see if you can get some on you.