Still Life: Ron Mueck at Work
Still Life: Ron Mueck at Work
A behind-the-scenes look at the meticulous skill with which artist Ron Mueck created chicken / man.
Related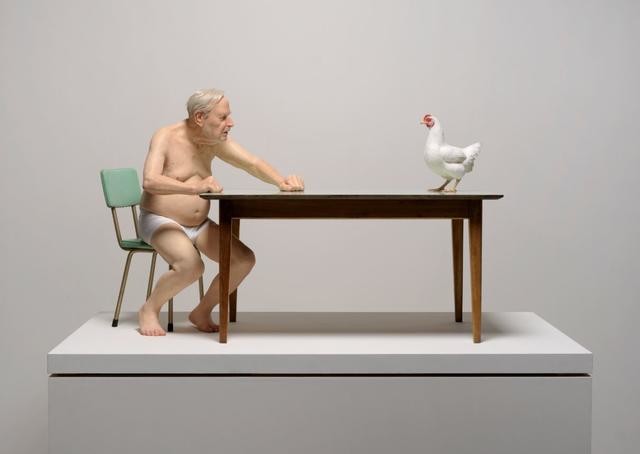 What's going on here? A man and a chicken stare balefully at each other, caught at the kitchen table in an eternal moment of tension. It's impossible to say who started it. Was it the outraged old bloke, pushing himself to his feet? Or the chicken, chest thrust out like a tiny feathered general? The humour of the situation is undercut by an air of uncertainty.
Ron Mueck is an Australian sculptor, now living in England, who makes astonishingly life-like hyper-real sculptures of people caught in moments that are at once strange and ordinary. His figures look very human, but are conceived on a different scale – either vast and somehow vulnerable, or small and intense, like we see here in chicken / man. This shift in scale sets up moments of great emotional power.
chicken / man is the fifth and final in a series of works that were acquired to mark the number of years the Gallery was closed for repair after the Canterbury earthquakes of 2010 and 2011. It was commissioned by the Gallery from the artist, who created it for Christchurch, a place he has visited several times. "The idea of the chicken was as big a surprise to me as to the man at the table," said Mueck. "But I knew immediately it was just the right blend of the mundane and the surreal."
(Now, Then, Next: Time and the Contemporary, 15 June 2019 – 8 March 2020)

23 January 2011
Astounding in their realism and emotional power, Ron Mueck's works have made him one of the most renowned sculptors of our time. See them exclusively at Christchurch Art Gallery from 2 October.