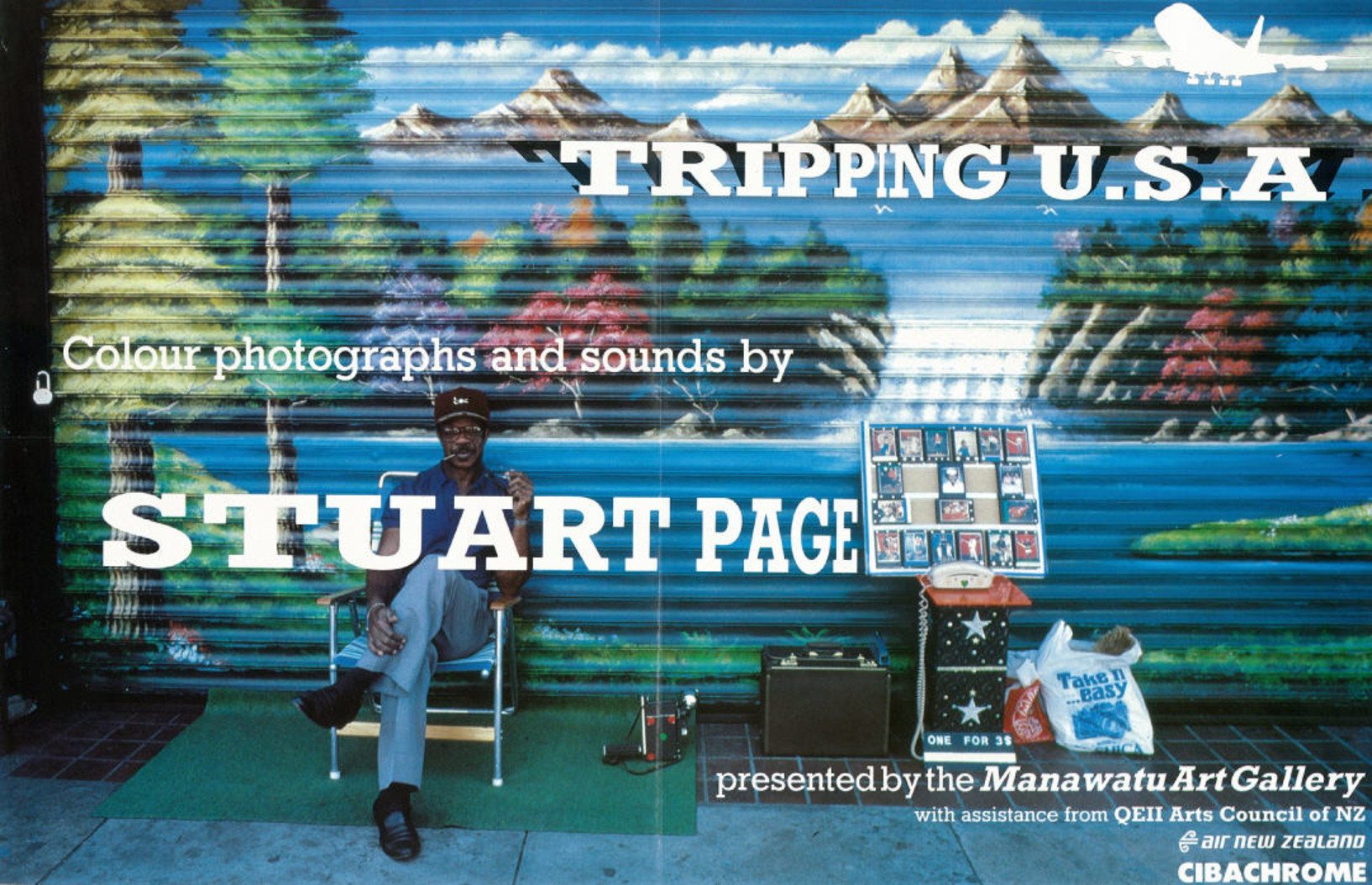 This exhibition is now closed
This exhibition consists of 40 colour photographs made in Los Angeles, New York, and other cities during a tour of the USA in 1982.
The tour and Cibachrome printing were both generously assisted by the QEII Arts Council of NZ and this exhibition has been organised in collaboration with the Manawatu Art Gallery.
The photographs were all taken on long walks up and down the avenues and boulevards of the largest cities in USA. Minimal equipment was used: a 35 mm camera with 28 mm wide angle lens and colour-slide film. Trash cans and newspapers boxes were used as tripods where necessary.
The most exciting and relative communication seemed to Stuart to be happening 'on the street', much of it in an unconscious spirit, many people recording their feelings on walls, or dancing, dressing in costume and playing music, as well as accidental collages which occur from layers of paint and paper on surfaces which are scraped away revealing lower layers and paint which has split from a passing truck or rush and rot and scratches and dents on old street surfaces. Erosion and trash caused by constant crowds of people passing through streets renders the environment as a hologram from which an understanding of people's concern s and lifestyles can be gradually picked up.
Audio tapes were made on a walkman cassette-recorder in much the same way as the photographs 'snaps' or 'sketches' – sights and sounds grabbed on small portable machines and later edited and mixed to create a composition of urban cacophony.
Stuart's photographs capture the atmosphere of city life in the States and this is reinforced with the addition of New York sounds pervading the viewing area. This exhibition is the next best thing to tripping USA yourself!
('Tripping USA – Photographs by Stuart Page', Bulletin, No.40, July/August 1985, p.6)
Date:


6 August – 15 September 1985

Exhibition number:
345
Collection works in this exhibition
4 items