Exhibition
Judy Darragh: Sissy Squat
April – December 2013
Judy Darragh livens up the Gallery's Gloucester Street entry doors.
We're all waiting for the day when Christchurch Art Gallery opens its doors again. In the meantime, well-known New Zealand artist Judy Darragh is bringing her brand of humour and visual energy to the doors. Sissy Squat began its life as a promotional poster for a movie featuring a handsome Hollywood couple. But Darragh has set to work editing and creatively vandalising the image, covering its surface with spray-paint, strange data and hand-made visual glitches. Brightened up and painted over, the happy couple now look like they belong in a new genre – not romantic comedy, but science fiction.
Location: Forecourt
Exhibition number: 952

Part of
Related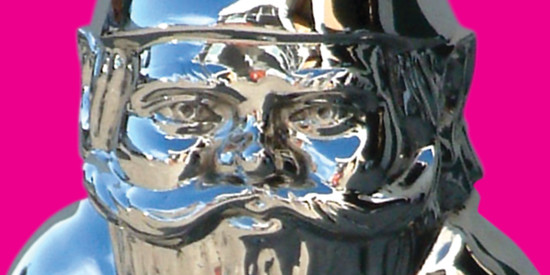 Populate!
Christchurch Art Gallery celebrates its tenth birthday with a burst of art in the city – including whopping new murals, night-time projections and sculptures where you least expect them.