Exhibition
Henri Matisse: Jazz
5 August – 12 November 2017
One of the most-loved artworks of the twentieth century
With its intense colours and spontaneity, Henri Matisse's Jazz communicates an exceptional sense of joy and freedom. Matisse made this illustrated book late in his life, when he could no longer paint. Confined to bed, he cut shapes from coloured paper and arranged them as collages. Love, death and fate are Matisse's great themes: his enjoyment of the circus and the theatre is reflected in the work, as well as the influence of his trip to Tahiti in 1930. Exhibited alongside Matisse's work are paintings by Richard Killeen and quilts by Rarotongan tivaevae artists Rangi Oberg and Esetera Roriki, which stake a claim for the tradition of cut-outs from the South Pacific.
Jazz travels to Christchurch from the collection of the Art Gallery of New South Wales.
Related
Director's Foreword
However cold or wet it is as I write this (and certainly it's raining at present), our September Bulletin heralds the coming of spring, and with it, the promise of growth, renewal and hope.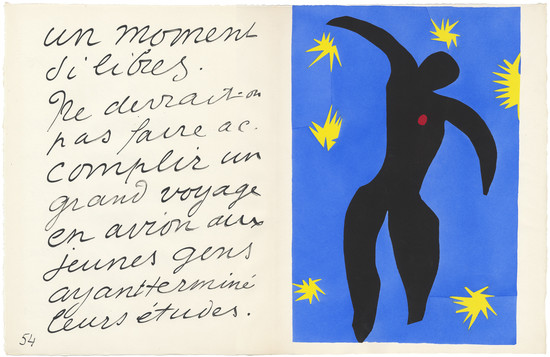 Henri Matisse's Jazz
Henri Matisse's Jazz is a book that has captivated art lovers and bibliophiles around the world. But it is unlike any other artist's book that Matisse produced. Designed as an album of colourful prints using his emerging découpage cut-out technique, he fashioned his images on the colour and movement of the circus and created them long before he authored the accompanying text. Abandoning the printed font, he wrote out every word of his typescript by hand. Created during World War 2, Jazz had a phenomenal impact when Greek born publisher Stratis Eleftheriades, professionally known as Tériade, launched it in 1947. When analysed through the prism of his artist's books he produced during the war, Matisse emerges as a silent activist against the German Occupation of France.