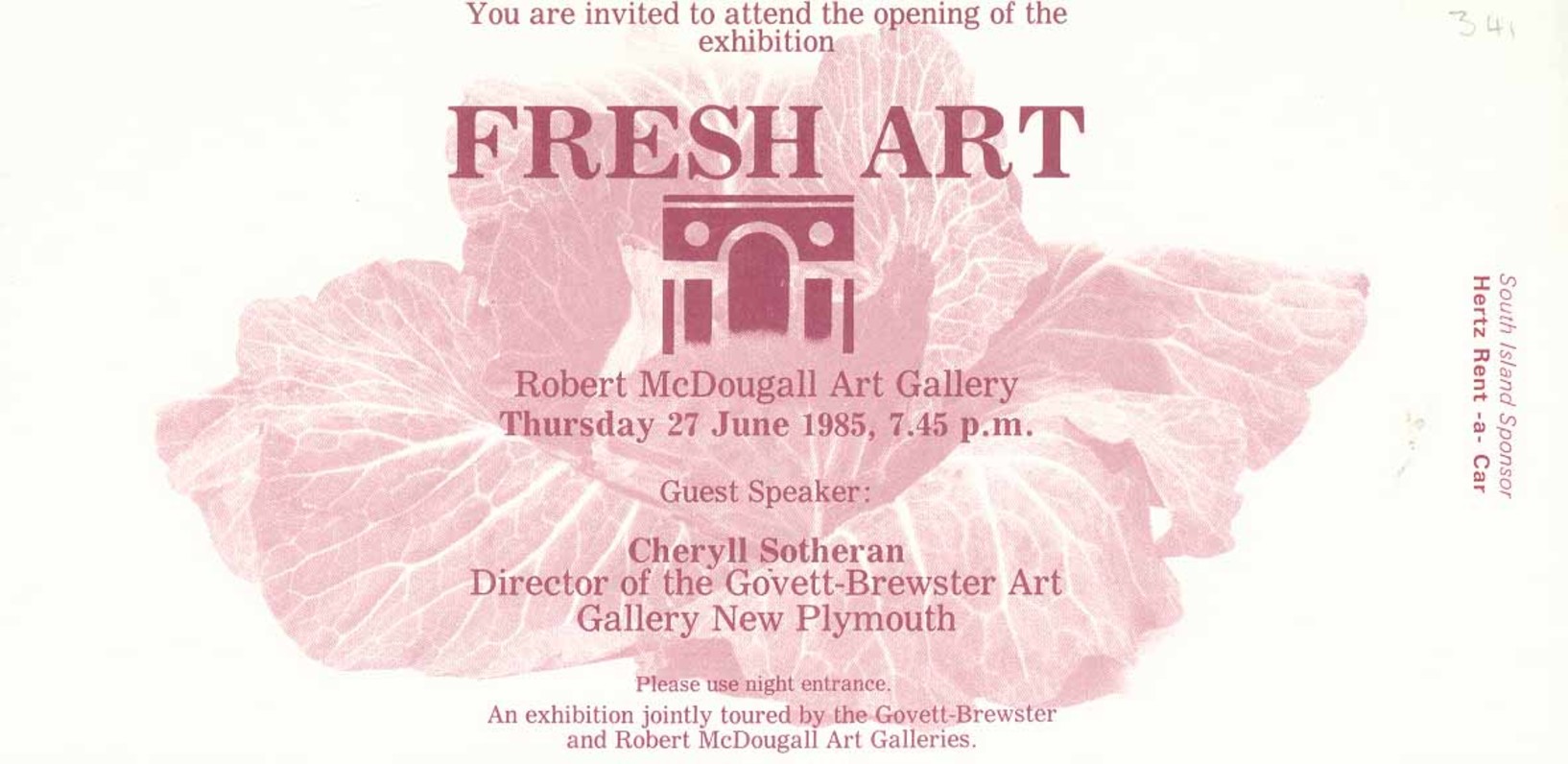 Established artists experience little difficulty exhibiting in the major galleries. Young New Zealand artists however, working on the fringes of accepted techniques and materials, depend almost entirely on the goodwill and support of a few dealers and are infrequently seen within the established gallery network. Fresh Art was seen therefore as a vehicle for some of this new and exciting talent.
Jointly organised by the Robert McDougall and the Govett-Brewster Art Gallery, New Plymouth this exhibition has been put together by a guest curator Mr Brad Smith. Previously the owner of the Red Metro Gallery in Dunedin Brad has now moved his business to Auckland. Personally he is well-known for his strong interest in the avant-garde and for his enthusiasm and support of several of our young and experimental artists.
In Fresh Art Brad Smith has selected nine young artists to display some of the exciting new trends in New Zealand art. They are Debra Bustin, Stuart Griffith, William Hammond, Nicola Jackson, Chris Knox, Ian McMillan, Charo Oquet, Martin Sullivan and Christine Webster.
Together they present a fresh view of art. Their attitude to the materials of art for instance is new and expansive. Stuart Griffith for example is a sculptor who studied here in Christchurch with Tom Taylor and who is using butter and cheese as the materials for the gallery sculpture. Bill Hammond, one of our main Post Modernist painters is using silvers, pewters and gold of the new acrylic paints.
New techniques are also a major component of what is refreshing in Fresh Art. Christine Webster who exhibited in a small show at the McDougall last July and who has recently been awarded an Arts Council Grant for studies overseas will be displaying some of her new photographic techniques. And Chris Knowx will demonstrate some of the innovative film techniques of the very flexible and neoteric medium of video film.
Then there is the exuberant installation work of the young anti-establishment artist Debra Bustin. Her lively and somewhat outrageous use of materials and colours was recently an important component of the Adelaide Arts Festival. It will be fun to welcome her again in Fresh Art to the somewhat formal gallery spaces in the McDougall.
The young artists in Fresh Art offer us not just a new artistic experience but also a challenge. What is the fresh approach to art and where is this keen young vision now being focussed.
('Fresh Art', Bulletin, No.39, May/June 1985, p.3)