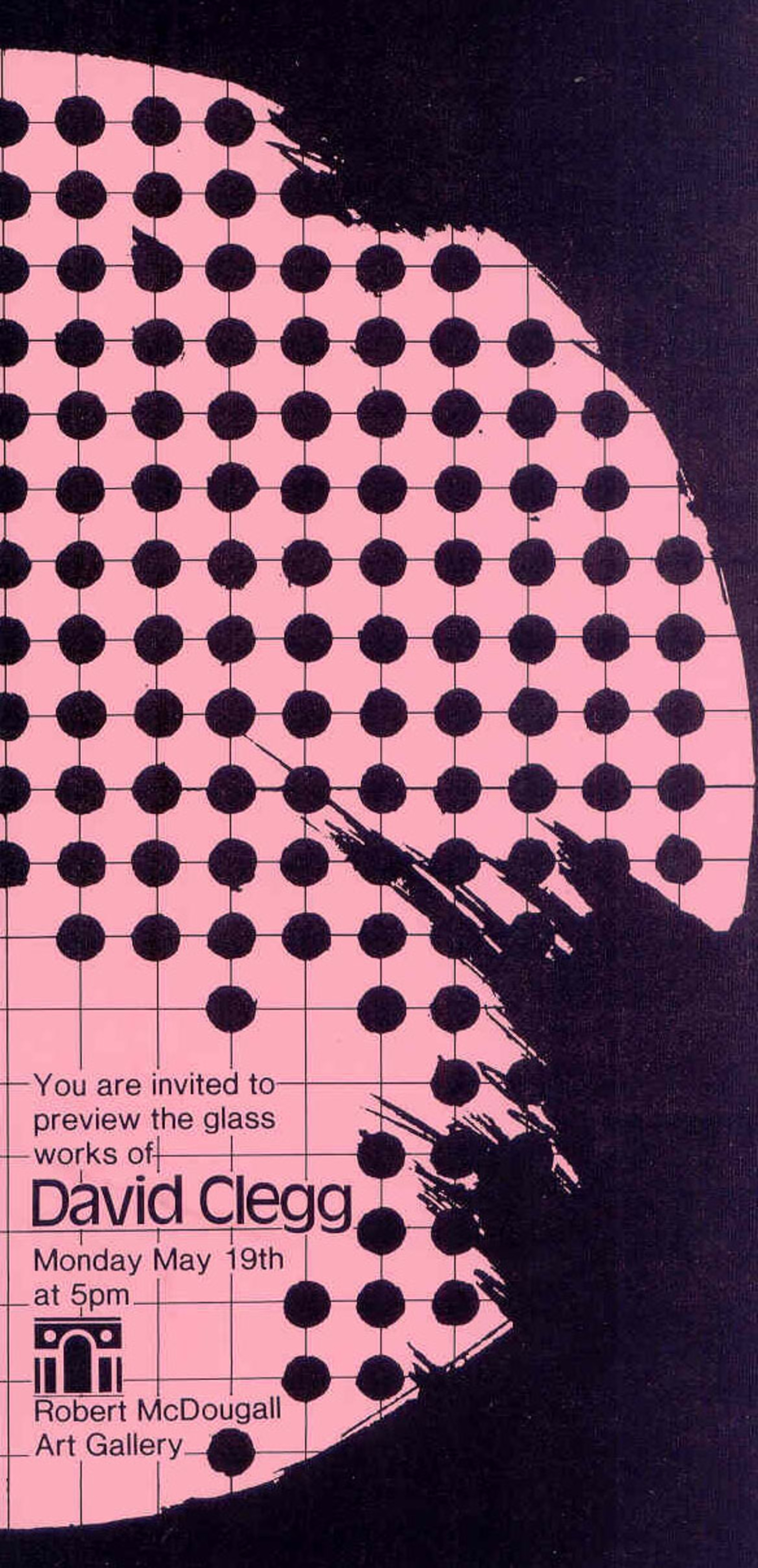 David Clegg is a leading designer of leaded-glass in New Zealand, having developed the autonomous glass panel in particular to a significantly sophisticated degree. Aside from many architectural commissions, his work is held in numerous public and private collections. On 3 October 1982, with assistance from the Queen Elizabeth II Arts Council of New Zealand, David Clegg travelled to West Germany. A portion of the grant was awarded for the production of work for an exhibition upon his return and, four years later, the obligation is fulfilled with this one-man touring exhibition.
A major objective of his trip was to experience the largest existing body of contemporary stained glass, a mandatory pilgrimage for anyone with a serious involvement in stained glass and architecture. It gave him the opportunity to see stained glass on a monumental scale, its friendship to and effect upon architecture. Because of lighting difficulties slides and photographs usually portray stained glass independent of its surroundings, therefore this relationship and much of the relevance of the stained glass design is missing. The characteristic property of stained glass to create and modify the atmosphere of an interior is also difficult to photograph successfully. Stained glass and architecture, in order to be correctly perceived, need to be experienced first hand, they need to be felt.
Clegg resists suggestions that his work is particularly regional. The dark greens of Taranaki's native bush do appear in his work, as do the intense white lights and dark shadows commented on so frequently by visitors to this country. Perhaps these are subconscious elements. Although born a fourth generation New Zealander, he identifies more easily with his distant European origins and certainly his penchant for complexity and a high degree of visual organisation supports this contention. For one living in virtual seclusion in 'the Provinces', he is remarkably well attuned to international movements in glass, fine arts and architecture.
This exhibition is not a survey of past achievements, rather pause and reflection upon what is happening now and an indication of what may follow. It is significant to note that among the so-called working drawing displayed here are those he considers finished, for which it is unnecessary (or that he is unable) to realise the idea of stained glass. Clegg admits to an increasing inability to resolve a number of relationships between the idea and the material glass to his own satisfaction. In fact stained glass may ultimately prove to be an inappropriate vehicle for the expression of many of his concerns.
This exhibition comprises eight works and is seen by the artist as a current statement about indigenous leaded glass. Also included is a concise slide-tape presentation of his architectural work and two wall-mounted education panels.
('David Clegg: Glass', Bulletin, No.45, May/June 1986, p.3)