Purchased, 2014
Stainless steel (316 BA marine grade, mirror polish)
3030 x 1110 x 990mm
2014/034
2013
Related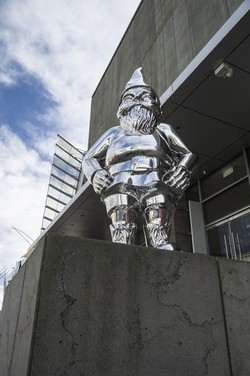 Gregor Kregar: Reflective Lullaby
Justin Paton: As everyone who has seen your works at Christchurch Airport will know, you often make big sculptures with a geometric quality. Gnomes, however large, aren't the first things viewers might expect you to be interested in. What's the appeal of these figures for you?
Gregor Kregar: I'm interested reinterpreting mundane objects, shapes, situations or materials. In my large geometric works I do this by creating complex structures out of basic shapes—triangles, squares, pentagons and hexagons. And with the gnomes I am interested in how something that is usually made out of plastic or concrete and is associated with a low, kitsch aesthetic can be transformed into an arresting monumental sculpture.
Two 8-foot mirror finished steel gnomes in climbing harnesses are spectacle enough without the need for word play.