William A Sutton bequest, 2000
Oil on board
583 x 657mm
2000/07
1942
Through her tutor, Robert N. Field, Lusk discovered the work of Cézanne, who famously stated his desire to represent nature, rather than record it. Lusk readily manipulated reality, describing in a 1987 television interview how her landscapes were "controlled and restricted, composed into pictorial space". Painted in 1942, the year she married and moved to Christchurch, 'Towards Omakau' is an exhilaratingly expansive view of a landscape near Alexandra, in Central Otago. It's undeniably modern; a sharp rebuke to those commentators who sought to relegate Lusk to the ranks of pragmatic regionalist.
The composition of this work is designed to accentuate the numerous lines that stretch over its surface, curving around eroded cliff faces, extending in darting tangents as rivers and roads, forming regimented shelterbelt verticals. Sheep trails crisscross gently rounded hills, echoing clouds that swirl overhead. Reflecting on her practice in later years, Lusk stated: "[I] have tried to get to the heart of the matter, involved with the complexity rather than simplicity in describing the nature of our land."
(Doris Lusk: Practical Visionary, 4 June – 30 October 2016)
earlier labels about this work
Doris Lusk emerged as a major figure in New Zealand landscape painting during the 1940s. Her work often bears similarities with the Canterbury regionalists in that she favoured painting wide open and unpopulated landscapes. In the paintings 'Canterbury Plains from Cashmere Hills' and 'Towards Omakau, Central Otago' the high viewpoint taken emphasises the structure of the landscape, a primary concern of Lusk's. She simplifies the shapes of the hills, the patterns of eroded gullies on hillsides and the rhythmic shapes of trees in the foregrounds of both paintings. She was also compelled by the presence of built structures in the landscape. The formidable powerhouse in 'Powerhouse, Tuai' dominates the scene with the people in the foreground dwarfed by the presence of this monumental industrial structure, a feeling further intensified by the lack of a visible horizon.
Related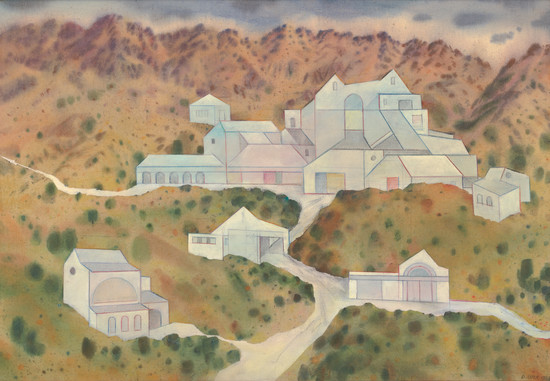 Doris Lusk: Practical Visionary
Intricate landscapes and imaginative explorations by renowned New Zealand painter Doris Lusk.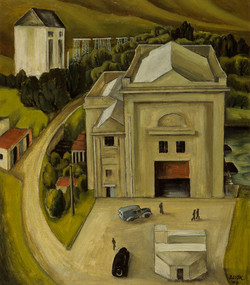 Lusk described the power station at Tuai to art historian Lisa Beaven as a "gothic building in the middle of the wild hills". Certainly, this striking oil painting plays up its strange incongruity, combining an abruptly elevated viewpoint with a heightened, stylised approach reminiscent of the unsettling streetscapes of Italian metaphysical painter Giorgio de Chirico (1888–1978). The tiny human figures moving briskly across the wide driveway accentuate the immense building towering over them, while the angled cars, curved road and power lines marching into the distance suggest a confluence of dynamic forces, barely contained.
(Doris Lusk: Practical Visionary, 4 June – 30 October 2016)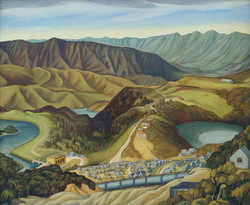 Daughter of an architect, and married to an engineer, Lusk was keenly attuned to structure. While artists such as Rata Lovell-Smith, Rita Angus and Christopher Perkins juxtaposed natural and constructed elements, such as bridges, telegraph poles and railway stations, Lusk chose more dominating features that resonated with weight, energy and a sense of industry. Artist Anne Hamblett recalled: "Doris always did a different sort of thing. Buildings and water stations. […] She liked doing big water pipes and machines." This view of the newly built Kaitawa hydro-electric station and associated settlement was painted when Lusk visited her friends Ian and Adelaide McCubbin in 1948. Ian McCubbin was a construction engineer for the Waikaremoana hydro-electric power scheme, which included power stations at Piripaua and Tuai (also painted by Lusk and part of this exhibition). Here, the massive pipeline in the foreground seems to continually shift in scale, looming hugely over the miniature houses but dwarfed in its turn by the distant mountain ranges.
(Doris Lusk: Practical Visionary, 4 June – 30 October 2016)