B.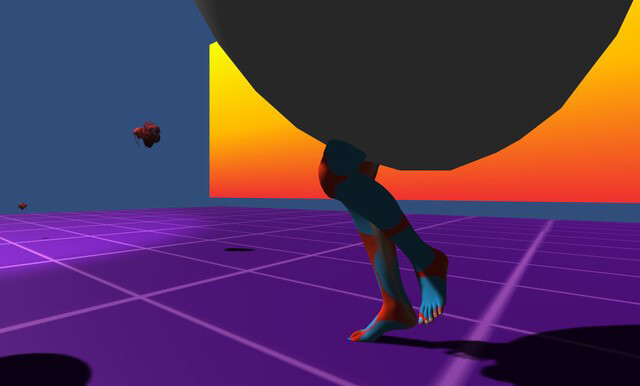 Judy Darragh and Sean Kerr: In Kahoots
Media Release
Combining artificial intelligence, highbrow concepts, lowbrow humour, dance and retro pop music, In Kahoots is an unforgettable summer experience, unique to each visitor to Christchurch Art Gallery Te Puna o Waiwhetū from Saturday 28 November.
In Kahoots is an immersive 3D artwork with a retro flavour by Judy Darragh and Sean Kerr. It combines artificial intelligence with random elements to create new sights and sounds, in real-time, literally surrounding each audience.
"No two visitors to In Kahoots will experience it in the same way," says assistant curator Nathan Pōhio.
"In Kahoots is an ever-changing 3D experience that in a sense feeds on itself – by reworking the artists' source material, the algorithm constantly regenerates its own sounds and images into new art. This is the first time In Kahoots has been to Christchurch, but really, everyone who visits will experience a first."
From a technical standpoint, In Kahoots incorporates animation, artificial intelligence learning, and real-time making, creating and outputting, to create a brand new way to experience art in the Christchurch Art Gallery space.
The exhibition is the work of artist Judy Darragh and interactive video artist Sean Kerr, who have exhibited previously at Christchurch Art Gallery. This is their first collaborative project at Christchurch Art Gallery.
"Judy and Sean are both longstanding friends to Christchurch Art Gallery," Mr Pōhio says. "Both of them generate work that's engaging, thought-provoking and just a little bit cheeky – and this work has cheeks galore."
In Kahoots runs from Saturday 28 November 2020 to 21 February 2021 at Christchurch Art Gallery.
It's one of several exhibitions in the Gallery's All Art All Summer season, designed to make everyone feel welcome this summer – with more Kiwi families exploring their own backyard, Christchurch Art Gallery is opening its doors to visitors of all ages and tastes. The season will launch officially on 5 December 2020.