B.
Andrew Drummond exhibition opens this week
Gallery
Spanning a career of over thirty years, this exhibition draws on Drummond's rich and diverse practice between 1980 and 2010. It is the first major comprehensive survey of this important artist's work, and it's on here at the Gallery.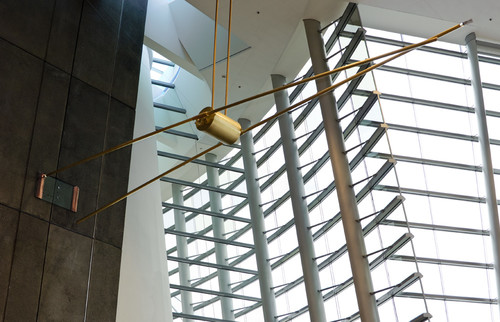 'Drummond is well known for consistently producing engaging and dynamic large-scale mixed-media works,' says director Jenny Harper. 'Through his lifelong commitment to creating challenging work, he has made a real contribution to the development of sculpture in New Zealand.'
His work encompasses performance, sculpture, installation, drawing, photography and technology, and focuses largely on land, the human body, machines and movement.
'This exhibition highlights Drummond's fascination with the environment, the body, technology, space and the importance of the social. It gives and receives energy and transports audiences through key periods in his career,' says Ms Harper.
As well as being a highly respected artist, Drummond is also an inventor. As a pre-exhibition teaser, two of the artist's kinetic sculptures were installed in the foyer in March – two months ahead of the exhibition opening. Viewing Device, Counter Rotating is a 650kg air muscle motor, made of aluminium and steel, suspended from the central shaft in the foyer. The device counter-rotates, going in two different directions at the same time, driven by air. The other structure, Counter Rotating and Earthing Device features rotating brass arms which create a visible and audible electric discharge as they brush past copper earth-plates.
'We are convinced that Drummond's work will appeal to a wide audience because of his unusually innovative imagination – already we can see how intrigued our visitors are by the two large kinetic sculptures in our foyer. His work quite simply, reflects sheer engineering excellence,' says Ms Harper.
'We look forward to opening the exhibition to the public on Friday and are sure our visitors will be enthralled and inspired by what's in store.'
The exhibition will be accompanied by a stunning catalogue produced by Christchurch Art Gallery.