B.
Ron Mueck is nearly here
Exhibition
A major exhibition by internationally renowned sculptor Ron Mueck will open at Christchurch Art Gallery this October.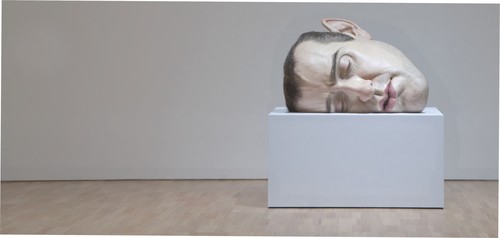 Ron Mueck, the blockbuster exhibition which opened at the National Gallery of Victoria in Melbourne in January and at Queensland Art Gallery in May, will soon be crossing the Tasman for the first ever exhibition of his work in New Zealand.
Known for creating extraordinarily life-like sculptures, Ron Mueck will feature thirteen works drawn from national and international public and private collections, including four new sculptures created specifically for this touring exhibition.
Christchurch Mayor Bob Parker says the exhibition will be a great addition to the city's thriving arts scene. 'We are most fortunate to have Ron Mueck coming to Christchurch. We expect it to draw large crowds to the city and are delighted that Christchurch is to be the exclusive New Zealand venue.
'It's not the kind of art exhibition you get to see very often and it will appeal to a vast audience, not just art enthusiasts. The super-realistic sculptures make for compelling viewing - it's certainly going to be one exhibition you do not want to miss,' says Mr. Parker.
Director Jenny Harper, who attended the launch in Melbourne, says audiences will be amazed at what they see: 'These sculptures look incredible in photographs, but when you see them 'in the flesh' it's another thing altogether.
'From pores on the skin to the reality of the finger nails, no detail has been ignored. And the shifts in scale, with some figures very large and others very small, intensify the effect into something quite fantastic. Mueck's 'people' represent all stages of life from birth right through to death. You are drawn into sympathising with their exposed vulnerability'.
Among the thirteen works on display will be Pregnant woman, a 2.5 metre high sculpture of a naked child-bearing woman, exclusive to the Christchurch exhibition.
'This will be the only chance New Zealand audiences have to see it in person,' says Ms Harper.
Other highlights include Dead Dad, Wild man, Mask II, Old woman in bed, A girl, Man in a boat, Two women, and In bed.
Ron Mueck was born in Melbourne, Australia in 1958, but has lived in London for the past twenty years. Audiences first became aware of his work when his poignant sculpture Dead Dad was included in the exhibition Sensation: Young British Artists from the Saatchi Collection at the Royal Academy in London in 1997.
Since then, his reputation has grown internationally. When Mueck's exhibition opened at the National Gallery of Scotland in 2006, queues rivalled those for the same gallery's Monet exhibition. He wowed visitors to the Venice Biennale in 2001 and his exhibition at the Cartier Foundation in Paris in 2006 broke all records, with an attendance of 110,000. Audiences everywhere are intrigued by his solitary figures.
The crowds are once again flocking to see his work in Melbourne, with large visitor numbers recorded throughout the opening week at National Gallery of Victoria. 'We expect a similar response when the exhibition travels to Christchurch in October,' Ms Harper says.
'Mueck portrays people from all walks of life so honestly and I think that's why so many people can relate to his work. He challenges us to see the world from someone else's point of view and his images have an unusually strong after-life. Once you've seen the works in this exhibition, you will never forget them. It's extraordinary.'
Ron Mueck is a National Gallery of Victoria touring exhibition and will be on show here from 2 October 2010 until 23 January 2011.