B.
TWENTY YEARS, FORTY BOOKS - THE HISTORY OF THE HOLLOWAY PRESS
Behind the scenes
There's a great opportunity to hear Peter Simpson talk about his involvement with one of New Zealand's finest private presses, the Holloway Press, tonight. Peter's talk is being held at the WEA, 59 Gloucester Street at 6:00pm.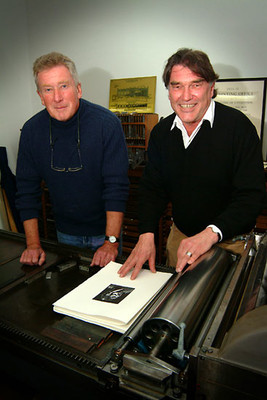 The Holloway Press was launched in 1994 by Alan Loney and Peter Simpson and since this date has published beautifully designed and printed limited edition books by both historical and contemporary writers and artists including Leo Bensemann, Alan Loney, Gretchen Albrecht, Michele Leggott, John Reynolds, Max Gimblett, Len Lye, Ted Jenner, Robin Hyde, Allen Curnow, Robert Creeley, Mari Mahr, Gregory O'Brien and Colin McCahon...to name a few. As this shortened list illustrates the Holloway Press has produced quite a staggering list of publications over the past 20 years so make sure you head down to the WEA to hear Peter's account of his establishing and running the Holloway Press.
Check out the exhibition Dark Arts: Twenty Years of the Holloway Press which runs at Peterborough Street Central library until 16 November.