B.
School's back
Behind the scenes
You may have noticed this week that traffic is bad again – that means term two has begun! As usual we have a busy education programme planned. Since the opening of Burster Flipper Wobbler Dripper Spinner Stacker Shaker Maker, school groups have been taking guided tours and lessons at ArtBox. Below is a review the exhibition by local home schooler Tierney Reardon.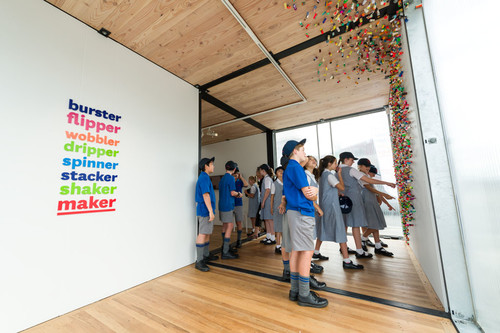 Burster Flipper Wobbler Dripper Spinner Stacker Shaker Maker...while it's a bit of a mouthful, this name perfectly suits the new Christchurch Art Gallery exhibition; it's flamboyant, dramatic, bright, and a combination of things both wild and messy.
When I visited the exhibition in February, I was surprised to see how wildly different each piece was, and how each colour and shape seemed to fit together. All of the contrasting textures, shapes and surfaces seem to work together perfectly to create pieces that will enrapture your mind.
This new collection is one of sculptures, bold in both shape and colour, and created by a range of artists from across New Zealand and Australia, including John Hurrell, Tony Bond, Helen Calder and John Nicholson. These pieces take things as simple as pencils and transform them into something extraordinary. Each sculpture is alive in their own way- not content with sitting on display like traditional exhibits, these artworks drip from the ceiling, flicker on the walls and burst in hypnotic patterns.
One sculpture that particularly impressed me was Swarm II by Auckland-based artist Judy Darragh. It consists of hundreds of paint-splattered corks, spreading across several walls and swarming towards the door. Like a colourful cloud of insects, this artwork seems to hum with restlessness and sudden flickers of movement.
In this exhibition, the artists' mediums – paint, pencils, samples of paint colours – are stretched to their limits as they themselves become the focus of the sculptures. These bright colours and contrasting textures will remind you that the boldest art can come from the simplest, most ordinary of things. Quirky, crazy, totally enthralling – it's an explosion of fresh inspiration and colour in the centre of post-earthquake Christchurch.