B.
Complete bull
Behind the scenes
It's hard to disagree with Melanie Camp's observation that making artistic decisions is something that we can never avoid.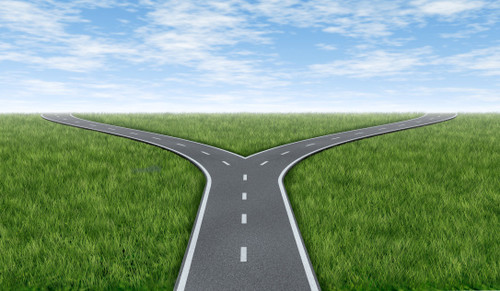 Melanie is the director of "The Great Art War" now showing at the Court Theatre and the parallels she mentions in the programme between the 1949 Pleasure Garden debate and current re-building debates are remarkable. Only the medium has changed. Here are some less than enthusiastic comments posted on Facebook this week concerning our own Back the Bull campaign:
It may be art for some, but for me this is an absolute waste of money
I am sure those without flushing toilets, running water or living in caravans will think this is a brillant idea
Or you could sell it for scrap to fund the rebuild! Go out in the paddocks and look at real bulls?? as always Art is in the eye of the beholder or not!
What a waste of money use the money to fix all the other things that need fixing
What the hell does a bull on a grand piano have to do without Christchurch's earthquakes? Pretentious artistic gittery!
Westpac can afford to buy this 50 times over!!!! why should we donate?
Not interested
And here are some comments from The Press, some sixty years ago, deploring the purchase of Frances Hodgkins's Pleasure Garden:
I know I am no artist but I know where I would put that (Councillor Mabel Howard)
I think the best part of it is the glass (Councillor W P Glue)
A meaningless jumble of bemused ideas, the product of a disordered mind (Counciller J Hay)
4 September 1951
Infantile daubings (A true art lover, 20 June 1949)
A child could do it (Cecil Kelly 22 June 1949)
Is it going to help the world in its present state to look at a painting that is revolting? Would the people who uphold these horrors marry a woman whose foot was on the end of her arm or whose one eye was in the middle of her forehead (Beauty in art 23 June 1949)
A few indistinct fragments (F C Archer 24 June 1949)
It appeared to be a jumbled mass of weird-looking blobs and flourishes, of a badly drawn table and poor arrangement of articles thereon, all placed to the one edge, giving an overbalancing effect to the table (Unsigned 24 June 1949)
If, as averred, it is "what the artist saw", then let us be charitable and give it a decent burial, or cremate it and forget it (Sam Johnson 29 June 1949)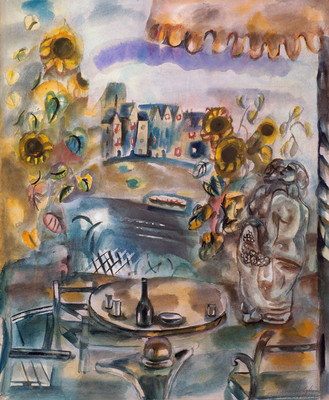 Related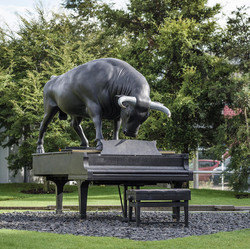 When 'Chapman's Homer' was exhibited at the edge of the devastated central city in 2012, it was positioned between ruin and rebuild just outside the cordon in an empty lot on Madras Street. Our bull stood beside his seated brother while a red carved Steinway piano was played upstairs in an adjacent building. Over thirty days, Parekowhai's work caught the public imagination as a symbol of the resilience of local people. At once strong and refined, a brutal force of nature and a dynamic work of culture, Chapman's Homer resonated with local audiences. Subsequently, a public fundraising campaign kept the bull in Christchurch.
Chapman's Homer was first exhibited in Venice, where Parekowhai represented New Zealand at the 2011 Venice Biennale. It travelled to Christchurch after being shown at the Musée de quai Branly in Paris. Over the past year, we've shown it at a number of sites around the city as part of the Gallery's Outer Spaces programme, including Worcester Boulevard, Placemakers Riccarton, New Regent Street, and most recently at Christchurch International Airport. And now the bull is back – standing strong in its permanent home at Te Puna o Waiwhetu Christchurch Art Gallery, welcoming visitors to our reopening exhibitions.
(December 2015)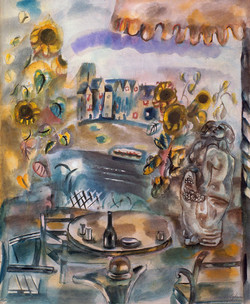 This work was painted during a sketching trip to Bridgnorth, Shropshire in the summer of 1932. Its lively watercolour style and subject matter express Hodgkins's characteristic interest in capturing the fleeting sensations of a moment.
Following her death in England, Pleasure Garden was one of six works by Hodgkins brought to Christchurch in 1948 at the request of the Canterbury Society of Arts. When the Society's purchasing committee rejected the selection, a group of independent art supporters raised the purchase price and offered it to the city's gallery, whose refusal generated metres of newspaper column displeasure and debate. In 1951 their persistence finally paid off.
(Treasury: A Generous Legacy, 18 December 2015 – 27 November 2016)