B.
Shared Lines
Behind the scenes
A new exhibition titled Shared Lines opened at the Canterbury Museum last Friday.
Last year, works by thirty-four Christchurch artists were exhibited in Sendai and the coastal village of Shiogama, Japan, as part one of the Sendai-Christchurch Art Exchange. Established in 2012, the art exchange celebrates the resourcefulness and resilience of artists living in the earthquake-struck cities. This year, the exhibition at the Canterbury Museum will showcase works by sixteen Sendai artists for Christchurch audiences.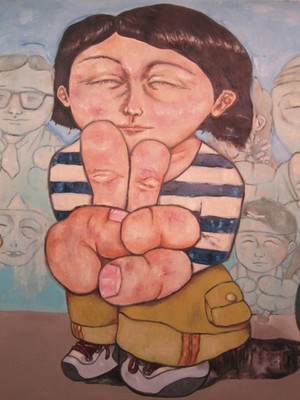 While not every work featured is directly focused on earthquakes or tsunami, they share something unspoken in being created in these post-disaster environments.
Also a part of the art exchange, the Shake It Up exhibition will open tomorrow at the Ilam Campus Gallery at the University of Canterbury and the show will feature works by various established and emerging artists from Christchurch. For more information about the project, you can visit the Shared Lines homepage.
The Volunteer Guides from the Christchurch Art Gallery will be providing free guided talks daily at 2pm at the museum for the Shared Lines exhibition commencing on the 15th of February.