B.
Going Fishing
Behind the scenes
A visit to the Art Gallery of New South Wales on Friday 21 September coincided with the Australian memorial service held there to celebrate the life of Robert Hughes, who died in the US earlier this year.
His family had brought his ashes back to Australia, which he always considered home. I was pleased to attend and impressed with a short extract from the back of the service sheet, where in an extract from A jerk on one end (1999), Hughes wrote of learning to look in his days as a boy fisherman in Sydney Harbour:
I rarely got out of the harbour and was confined to its foreshores, rock and piers. No matter; though I didn't really know it at the time, I was getting an education in seeing and discrimination. To fish at all, even at a humble level, you must notice things: the movement of the water and its patterns, the rocks, the seaweed, the quiver of tiny scattering fish that betrays a bigger predator under them. Time on the pier taught me to concentrate on the visual, for fishing is intensely visual even - perhaps especially - when nothing is happening. It is easy to look, but learning to see is a more gradual business and it sneaks up on you subconsciously, by stealth.
Reading this, it struck me how there are often simple beginnings to what we value most.
A well-produced video of clips from his life of looking and critiquing was played and, of course, tributes flowed. The Art Gallery of New South Wales was presented with a watercolour of Uluru by Hughes.
I realised also that there was a lot of Robert Hughes's writing which I hadn't yet read so that weekend I bought a copy of The Fatal Shore, which I'm enjoying now.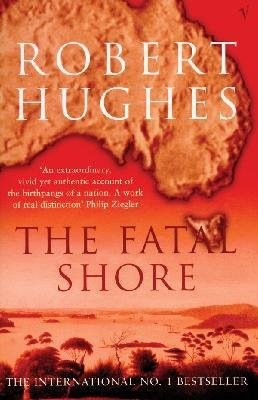 The Shock of the Newt
We were recently given a most unusual copy of Hughes' The Shock of the New for the library by the ever-generous Jim Barr and Mary Barr. Some years ago, they spent a day with Hughes while he was in Wellington and, spotting The Shock on their bookshelf, he spontaneously signed it. Over the following years they invited visiting artists and curators [also named Robert or Bob] to make their own addition, with some intriguing results...