B.
...and all that jazz
Behind the scenes
We offer warmest congratulations to our former colleague Janna van Hasselt who has been awarded a Fulbright New Zealand General Graduate Award to study at the School of the Art Institute of Chicago.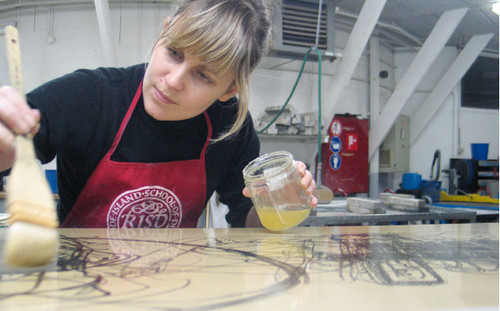 There she will complete a Master of Fine Art degree majoring in Printmedia. Curiously the fact that she used to work part-time in the Christchurch Art Gallery shop does not appear in the official Fulbright media release.
Of the SAIC Janna says: 'I chose it because it offers one of the top graduate fine art programmes in the US, and their printmaking facilities are extensive. They strongly encourage interdisciplinary study, so I will be able to continue integrating ceramics and painting in with my printmaking practice. I have to admit that Claes Oldenberg and Joan Mitchell being two of their alumni also helped to cement my decision!'
Amongst the happiest purchases I have made for the Gallery's artist book collection is her book Parade, a feast for the eyes and an exquisite physical object. The photograph below by no means does it justice