B.
Many Happy returns Florence
Behind the scenes
We wish artist Florence Akins all the very best as she celebrates her 106th year this week.
Florence was born in Christchurch and studied at the University of Canterbury School of Fine Arts under Francis Shurrock. She began teaching at the the School in 1927 and remained there until 1969. The gallery holds the 1932 linocut titled The Metalworker which in many ways reflects the interest and popularity of the linocut medium in England at this time, an interest that extended to artists such as Florence in New Zealand.
Related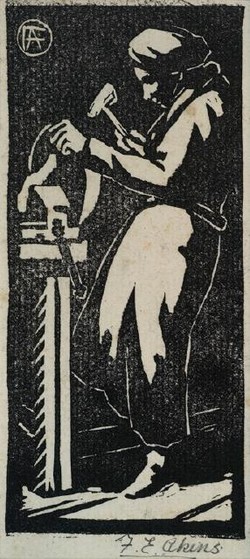 The linocut was a popular medium in Britain during the 1920s and 1930s. At this time it was also used by a number of Canterbury artists, including Florence Akins, who taught linocut at the Canterbury College School of Art. In The Metalworker Akins uses the stark contrasts of black and white to convey the fall of light on the figure. The subject is possibly one of her students. Akins was born in Christchurch and studied at the Canterbury College School of Art under Francis Shurrock and James Johnstone during the 1920s. She had a long association with the school; appointed to a part-time teaching position in 1927, she taught there until the end of 1969. Akins has worked with a wide range of media, including fibre arts such as embroidery, tapestry and weaving.