B.
Philadelphia
Behind the scenes
Last Friday I visited the Philadelphia Art Museum for the day. PAM was founded 135 years ago (so is 10 years older than Dunedin Public Art Gallery and Auckland Art Gallery). But what a huge difference a great history of philanthropy and generous gifts in kind makes.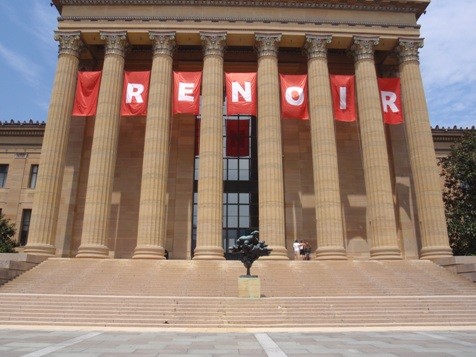 It has assured Philadelphia of having one of the largest (with more than 225,000 items), widest-ranging and most encyclopaedic collections of art in the world. It's easy to get waylaid among the French medieval cloister and period rooms on the way to their extraordinary Rogier Van der Weyden Crucifixion (c.1460) upstairs (itself part of a large gift from John G. Johnson in 1917).

The Museum is located on a promontory at one end of a busy major boulevard in a city that could have been the US capital. The letters R E N O I and R in bright red between pillars on its temple-like façade spell out the major exhibition on offer (late Renoir - effectively Renoir in the twentieth century, and it was a nice selection of work).

I was keen to see the collection of work by Marcel Duchamp, which is second to none in the world thanks to Louise and Walter Arensburg, who befriended the artist when he lived in the US, acquired a lot of his work, and eventually gave it to Philadelphia. (The museum also has a great group of Brancusci's as well.) I really enjoyed meeting Michael Taylor, curator and head of the modern and contemporary art department. Michael co-curated the US presentation at the Venice Biennale in 2009, when Bruce Nauman showed in three venues - the US pavilion in the Giardini and two other sites.

Michael is a specialist in Duchamp and has published a hefty text on Duchamp's last work, Etant donees, which I am bringing back with me as a brilliant example of focused and intensive scholarship. He was very interested to hear of an exhibition Christchurch Art Gallery hopes to host in 2011, The Art of Chess, and intrigued also to hear something of the various ways Duchamp has touched art making in New Zealand. I showed him an image of Mike Parekowhai's My Sister, My Self and told him of Mike's work. He'll certainly visit the New Zealand presentation at Venice in 2011.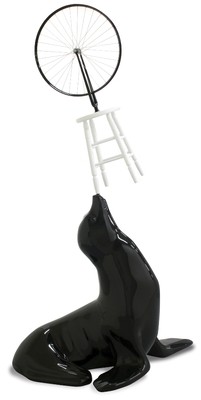 Further to the 2009 Biennale, it was great to see that Philadelphia had brought Nauman's key work Mystic truths, following Venice (and to note also that MoMA has acquired the work which debuted at Venice, Days - a sound sculpture consisting of a continuous stream of seven voices reciting the days of the week in random order).
Philadelphia was just as hot as New York, so it's a relief to be able to spend most of the day in an art gallery for more than one reason.
Related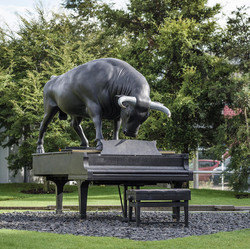 When 'Chapman's Homer' was exhibited at the edge of the devastated central city in 2012, it was positioned between ruin and rebuild just outside the cordon in an empty lot on Madras Street. Our bull stood beside his seated brother while a red carved Steinway piano was played upstairs in an adjacent building. Over thirty days, Parekowhai's work caught the public imagination as a symbol of the resilience of local people. At once strong and refined, a brutal force of nature and a dynamic work of culture, Chapman's Homer resonated with local audiences. Subsequently, a public fundraising campaign kept the bull in Christchurch.
Chapman's Homer was first exhibited in Venice, where Parekowhai represented New Zealand at the 2011 Venice Biennale. It travelled to Christchurch after being shown at the Musée de quai Branly in Paris. Over the past year, we've shown it at a number of sites around the city as part of the Gallery's Outer Spaces programme, including Worcester Boulevard, Placemakers Riccarton, New Regent Street, and most recently at Christchurch International Airport. And now the bull is back – standing strong in its permanent home at Te Puna o Waiwhetu Christchurch Art Gallery, welcoming visitors to our reopening exhibitions.
(December 2015)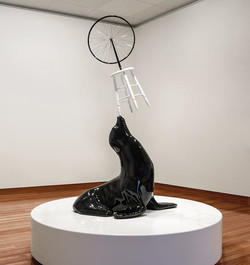 Michael Parekowhai's My Sister, My Self recalls a once-common sight in suburban New Zealand front gardens: the concrete seal with a chrome ball on its nose, a home-grown version of the performing circus seal. Connecting to other histories, it also recalls the kekeno, the New Zealand fur seal, which had an unfortunate central role in our pre-colonial past.
At the pinnacle of this spectacular balancing act is a replica of the artist Marcel Duchamp's famous 1913 Bicycle Wheel – a bicycle wheel upside down on a wooden stool. Duchamp made it for his own pleasure – he liked spinning the wheel in his studio – and later described it as his first 'readymade'.
(Beasts)