Event
Drawing Francis Upritchard
Workshop
Past event
Meet at the front desk
$20 per person
Join 2016 Parkin Drawing Prize winner Hannah Beehre for a very special life-drawing class using Francis Upritchard's sculptures as the inspiration.
Numbers strictly limited, bookings required. All materials supplied by the Gallery.
Related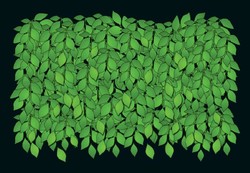 The stylised leaves in this 'hedge' respond to sound – voices, coughing, footsteps, music – by falling in unexpected patterns, depending on the volume and duration of the sound. Although the leaf motif suggests time and seasonal change, ultimately it always falls back into the same pattern.The result is simultaneously vacuous and profound – sitting somewhere between a screensaver and a meditation wall.
The title of the work relates to a cataloguing system the artists developed for their work. Combining a fine arts background with commercial design practice, they collaborated for more than ten years, showing in a number of galleries and festivals in New Zealand and overseas.
Hannah Beehre gained a Bachelor of Fine Arts from the University of Canterbury in 2000, where Aaron Beehre has lectured in design since 2004. The pair also played together in acclaimed band Pine.