Presented by the Canterbury Society of Arts, 1932
Oil on canvas
608 x 505mm
69/538
1928
Not long after her arrival in Christchurch from Scotland in 1928, Eva Masterton (née Strachan) was asked by Elizabeth Wallwork to sit for this portrait. Wallwork has created a lively work by having Eva lean forward in the picture, directly engaging the viewer with her gaze. The work asks what the future holds for her, given the cards she has been dealt. Wallwork has used a fairly traditional style, characterised by broad and visible brushwork and freely applied impasto paint. She aimed for a realistic portrayal of her subjects, influenced by the academic traditions of her training. Painted at the height of Wallwork's popularity, 'Fortune?' was considered one of the outstanding exhibits in the 1929 Canterbury Society of Arts annual exhibition. Elizabeth Wallwork (née Donaldson) was born in Manchester. She studied at Manchester Municipal School of Art and the Slade School of Fine Arts in London. She married fellow artist Richard Wallwork (1882 -1955) in 1910 and the following year they came to live in Christchurch. In that same year they began exhibiting at Art Societies throughout New Zealand.
Related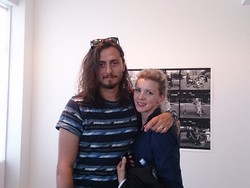 When Clayton's grandmother heard that he and his wife Lucy would be travelling to New Zealand as part of their big overseas trip, she mentioned that a visit to the Christchurch Art Gallery for these Londoners would be a must.