Acrylic on canvas tent
2005 x 1877mm
2016/003
1994
Bill Hammond painted Volcano Flag in exchange for a food and beverages tab at Lyttelton's Volcano Café (later the Lava Bar). It hung there for about fifteen years until the building was demolished following the Christchurch earthquakes of 2010–11. The front window of the café looked out across Lyttelton Harbour, the caldera of a vast extinct volcano which Hammond has imagined shooting ash plumes and blowing smoke rings.
Hammond's birds, too, gesture towards a time before human habitation of New Zealand—an environment he had encountered a few years earlier on a trip to the Auckland Islands. "It's bird land. You feel like a time-traveller, as if you have just stumbled upon it—primeval forests, rātās like Walt Disney would make. It's a beautiful place, but it's also full of ghosts, shipwrecks, death." Different stories and timeframes and images collide in Hammond's canvasses as if in a dream, or as if fragments of consciousness were projected on a screen. "I don't have a tight brief," he says. "I fumble around history, picking up bits and pieces."
In the 1980s and 90s, he used discarded objects from everyday life—strips of wallpaper, coffee tables and the reverse side of commercial signs—as grounds for his work. He painted Volcano Flag on a canvas World War I army tent that he found in the basement of his house, leaving it on the washing line for several years to bleach in the sun and rain. "I like things that have acquired a patina of time", he said. Its sister work, Buller's Table Cloth, painted on the other side of the tent, is in the collection of Auckland Art Gallery.
With its square format and dancing skeleton guitarist, Volcano Flag looks a bit like an album cover for an unnamed southern gothic band—and points to the distinctive relationship between art, contemporary music and the landscape in the Canterbury region.
(Your Hotel Brain 13 May 2017 - 8 July 2018)
Related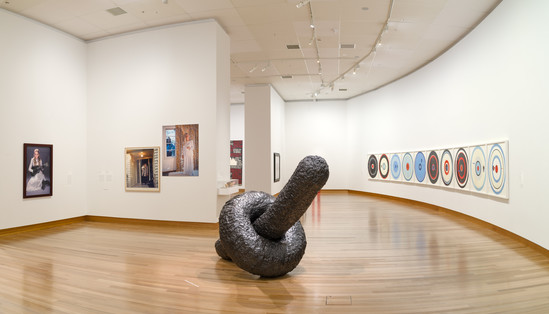 Raiding the Minibar
When does history start? What is the time span of the present? When do the margins of the contemporary begin to dissolve into the past? Our collection-based exhibition, Your Hotel Brain, looks at a group of New Zealand artists who came to prominence in the 1990s. Collectively their work explores ideas that have been critical to art-making in Aotearoa New Zealand over the past twenty years. Identity politics, unreliable autobiographies and references to a broad spectrum of visual culture – including Black Sabbath's music, prison tattoos, automotive burn-outs and our no-smoking legislation – traverse the contested ground of recent New Zealand art, linking the just-past with the emerging present. A selection of works from the exhibition are reproduced here.