B.
Unruly, unexpected and oblique images
Gallery
Combining unexpected detours, unruly surfaces and oblique viewpoints, the artists in Keep left, keep right invite viewers to slow down and take notice of the city that surrounds them.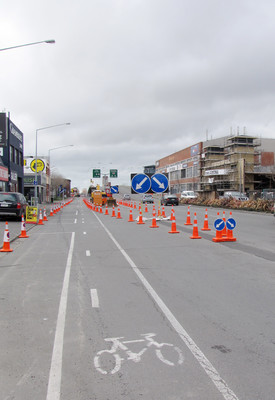 Located upstairs in the NG building at 212 Madras Street, the exhibition is the latest in our Rolling Maul series and features large-scale paintings by Miranda Parkes and Tjalling de Vries, as well as a projected work by Parkes.
Director Jenny Harper describes the exhibition as a great opportunity to see significant works by two local artists with steadily increasing national profiles.
'Regular visitors to Christchurch Art Gallery will recall Parkes's Slumper painting, which has been a highlight of our contemporary collection since it was acquired in 2006, and over the past few months the heroically sized mural Tjalling is Innocent by de Vries on the back wall of the CoCA building has provided a welcome and constantly changing point of interest for those on Worcester Boulevard.
'Keep left, keep right is a wonderful example of the strong work that continues to be made here in Christchurch and, as part of the ongoing Rolling Maul series, the exhibition emphasises the Gallery's continuing determination to support local artists after the earthquakes.'
Both University of Canterbury graduates who live in Christchurch, Parkes and de Vries, explore the creative possibilities of large-scale, pre-existing images, using repurposed surfaces as the starting points for their paintings. From here, they generate very different works that obstruct and intrigue the viewer in equal measure.
Parkes has described her works as 'a way of interpreting the changing trajectories we have to take through the city – for example, around blocked off spaces that were previously open and vice-versa - via painterly space. How can this real body (and emotional) experience be transferred into flat painted space?' Her video work isolates a minor moment we might otherwise miss – the rippling shadow a gently flapping flag makes on a city footpath.
De Vries transforms the eye-catching imagery of a commercial billboard, interrupting the original composition with bold painted motifs drawn from a range of sources. Unlikely juxtapositions are designed to disrupt the viewing experience, encouraging the visitor to question what they think they see.
Keep left, keep right runs until 18 November.
The Rolling Maul series has been generously supported by Creative New Zealand.