B.
Abstract design by Frank Weitzel
Collection
This article first appeared in The Press as A lesser-known Kiwi talent on 22 June 2016.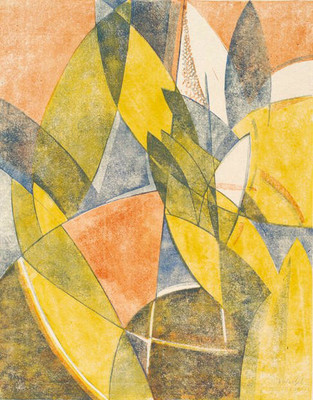 One of New Zealand's lesser known expatriate artists is Frank Weitzel (1905-1932) and the reason behind his obscurity lies in the fact that he died tragically young at the age of 26. Weitzel was born in Levin in 1905 to his German immigrant parents Frederich and Marie who were active socialists in the early years of the 20th century. Frederich was interned as an enemy alien during World War One and died in 1917. By 1921 Frank and his mother had shifted to San Francisco where Frank began art studies at the California School of Arts. After travelling and studying in New York and Munich he settled in Sydney in 1928. It was here, as local art historian Gail Ross has noted, that his work attracted the attention of Australian modernists such as Thea Proctor and he was invited to become a member of the Contemporary Group and The Group of Seven in 1929.
Weitzel made the decision to leave Sydney for London in 1930 where he made an immediate mark on some of the leading artists of the day. He formed a friendship with David Garnett, a prominent member of the Bloomsbury Group, and began associating with artists such as Jacob Epstein, Paul Nash, John Nash, Roger Fry and Duncan Grant. Another important contact Weitzel made in London was with Claude Flight, an artist and teacher who did much to promote the linocut in England at the time. Flight arranged linocut exhibitions at London's Redfern Gallery in the late 1920s and early 1930s and invited Weitzel to contribute. The Redfern Gallery was owned by Christchurch born Rex Nan Kivell who famously donated hundreds of twentieth century British prints to New Zealand art galleries in 1953 - including Weitzel's Abstract Design.
Showing so much promise in the London art scene and with such a bright future lying ahead of him, it was a shock to those close to Weitzel when in February 1932 he suddenly died. At the time of his death Weitzel was renting a carpenter's shop as a studio in the village of Hilton near Cambridge where he was preparing work for an exhibition in London. Living nearby was his friend David Garnett who rushed Weitzel to hospital when it was discovered he had tetanus but by that stage it was too late and he died within a few hours.
Weitzel's interest in abstraction is evident in Abstract Design where shapes cluster, overlay and intersect each other. With his decidedly modernist style combined with the support of some of the leading British artists of the day one is left wondering just how successful Weitzel might have gone on to become. This fact was lamented upon in a posthumous article on the artist in the art journal Art in Australia a few months after his death, but no such tributes were written here in New Zealand. Thankfully, due to the generosity of Rex Nan Kivell, his work is today represented in several New Zealand public art galleries.
Abstract Design is currently on display in the exhibition 'Modern Times' at the Christchurch Art Gallery Te Puna o Waiwhetū.