B.
'The Reid Children Aggie, Constance, Stewart, Douglas, Egerton  by John Horsburgh
Collection
This article first appeared as 'Mystery of portrait' in The Press, 9 March 2016.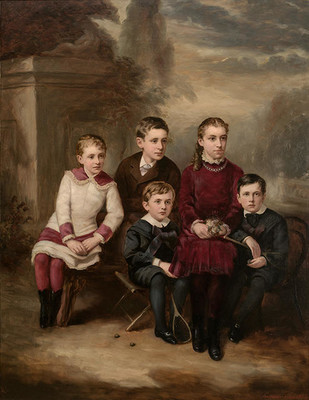 We will never know what the Reid children of Oamaru thought when they first saw this painting, but it is hard to imagine they would have been thrilled. There is something disproportionate, in fact downright creepy, about the figures in this painting: the heads seem too large, the unanimous gaze down towards 5 o'clock is contrived, and the awkward placing of each child in relation to the next is unconvincing.
The painting is dated 1883 and yet the vaguely classical background could have come from a century, even two centuries, earlier. The pillar and clouds setup must have been used a thousand times before these children were placed clumsily in front of it. And the failure to connect the children with their background, in fact the failure to connect the children's heads with their own bodies, is perhaps a clue to how this painting came about.
John Reid (1835-1912), the children's father, was a wealthy sheep farmer who was instrumental in developing the frozen meat trade out of Oamaru. He owned a large estate named Elderslie and gave the same name to a steamship that he commissioned to take his own frozen mutton to Britain. He was also an amateur photographer with his own darkroom. Many of his photographs, some showing parties and other events at Elderslie, survive in the North Otago Museum.
The man who signed our painting, John Horsburgh (1835-1924), was a middling Edinburgh artist and photographer. He was almost certainly a relative of Dunedin bookseller James Horsburgh and of bibliophile Alexander Turnbull. Turnbull's mother's maiden name, and indeed his own middle name, was Horsburgh.
There is no record of John Horsburgh ever visiting New Zealand and there is no record of the Reid children visiting Edinburgh as early as 1883 when this painting was made. (They did visit in 1889). Given that both Reid and Horsburgh were photographers, it seems plausible that the painting was made from photographs, possibly delivered by Reid himself when he visited Britain in 1883. Portraits of Reid and his wife by John Horsburgh, also dated 1883, hang in the gallery of early settlers at Toitu Otago Early Settlers Museum.
Is it possible then that Mr and Mrs Reid sat for their own portraits in Horsburgh's studio in Edinburgh on their 1883 visit and at the same time gave the artist photographs of their children to create the work illustrated above?
This would explain the awkwardness of the composition and the stiffness of the sitters. In fact once you have imagined this painting as being essentially one of those funfair amusements where you are photographed with your face showing through a hole in a humorously painted board, then it is pretty difficult to see it as anything else!
The painting came into our collection in 1984 from the estate of Marjorie McKenzie.