B.
Fly Me Up To Where You Are
Behind the scenes
Over the last few weeks some of our staff have been helping with the creation of a large work of art that will be on display in Worcester Boulevard as part of Christchurch Arts Festival 2013.
The work is titled Fly Me Up To Where You Are and has been developed by Auckland-based artist Tiffany Singh. To make this work Tiffany is collaborating with three thousand (yes, three THOUSAND) local children. The work is inspired by Tibetan prayer flags. Each flag will be painted with a design that expresses a child's hopes and dreams. All the flags will be collected together and hung up to make one glorious riot of colour.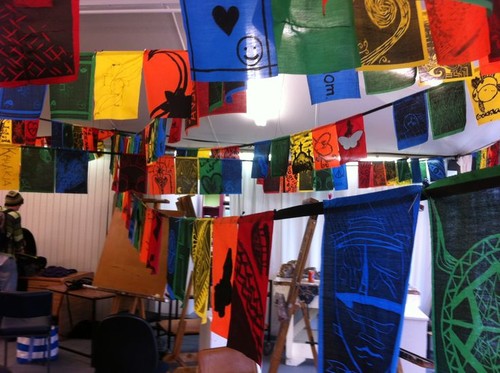 Kate, Airi and Julie and Min from the Gallery's visitor services team are getting a taste of gallery education and joining me and Lucy from the Christchurch Arts Festival on school visits around the city. We are helping kids design their flags and spending a lot of time up a step-ladder pinning flags to cord. If you are interested to see what a lesson looks like, check out this blog by Room 18 from Parkview School. It explains the workshop beautifully and features a time-lapse video of Min and me working with the class.
It's interesting to see what kids in Christchurch hope and dream for. They range from the practical to larger-than-life. In our post-quake city many are hoping for the roads and their homes to be fixed. I have also noticed other popular themes such as money, holidays, to marry One Direction (sigh) or to become an All Black.
However, I personally like it when you get something really original, like this gem: