B.
The beach
Behind the scenes
It seems like an age ago when Russell Clark's Japanese Planes, Rekata Bay, Santa Isabel, 1945 was purchased for the permanent collection way back in July 2010, before this town was turned on its head. One bright note is that it did make it onto the Gallery walls for a short period before our forced closure.
With the outbreak of World War II Russell Clark enlisted with the New Zealand Defence Force and was put to work as an illustrator for various army publications. He was appointed an official war artist in 1943 and was posted to the Pacific theatre where he worked around the Solomon Islands completing sketches of New Zealand's defence personnel in the Army, Navy and Air Force.
Japanese Planes, Rekata Bay, Santa Isabel, 1945 was most likely sketched from photographs after Clark had returned to New Zealand in 1944. Clark records the wreckage of several of the Japanese Imperial Navy's float planes abandoned by the Japanese when they left the Island of Santa Isabel in the Solomon Islands in September 1943. The torn fabric of the plane's fuselage seen in Clark's watercolour is stark evidence that these airframes were used as target practice by Allied air forces.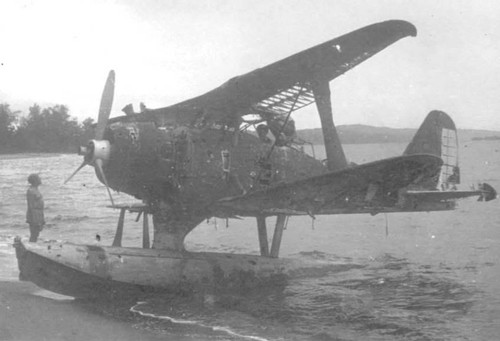 It is not known if Clark visited Santa Isabel but on August 5, 1945 the crew of a Royal New Zealand Air Force Catalina visited Rekata Bay, Santa Isabel in search of the wreckage of an RNZAF Lockhead Hudson which had crashed in the area on 18 December 1942. The Hudson was located but none of the crew's remains were recovered.
A few weeks later the crew of a RNZAF Catalina returned to Rekata Bay on 28 August for a picnic and to take a closer look at the remaining Japanese sea planes. This visit ended in tragedy when one of the members, Lance Corporal Leslie Ellen, was believed to have been taken by a salt water crocodile while swimming back out from the beach to the Catalina.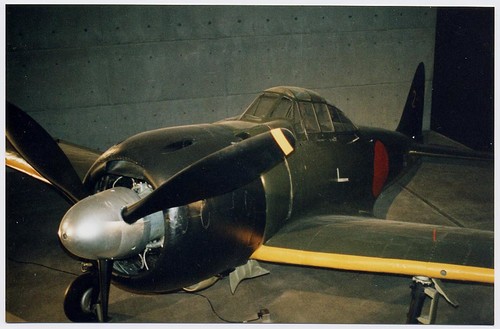 The Royal New Zealand Air Force brought back an impressive war trophy from the World War II Pacific Theatre, a Mitsubishi Zero fighter plane which is now on display in the Scars on the Heart exhibition at the Auckland War Memorial Museum. You can check out photographs relating to the RNZAF in the Pacific at the Wings over Cambridge site.