B.
Demo Town
Behind the scenes
Demolition of Christchurch's CBD has really stepped up over the past few months with whole blocks transforming into vast wastelands...
Christchurch Town Hall from Peterborough Street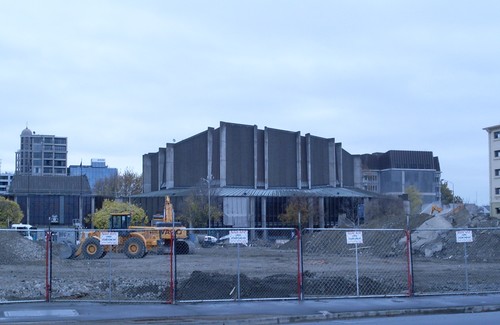 Vistas into the red zone seemingly appear overnight at the moment and one that has caught my attention over the past few weeks is the view above from the Christchurch City Libraries building in Peterborough street. The Town Hall, designed by Warren and Mahoney and opened in 1972, has never looked so good with the Convention Centre having been removed. While I would dearly love to have seen Lou Reed play at this venue on his notorious Sally Can't Dance tour in 1974 I feel lucky enough to have seen the NZSO perform here on several occasions. It is a stunning venue and one that I hope the city will be able to retain.
When I made my way home from the CBD during the afternoon of 22 February, 2011 it was a little disconcerting to see a large stream of water pouring out of one of the Town Hall's side doors by the Avon River. I dread to think of the liquefaction that most likely bubbled up beneath it and hope it didn't cause to much shifting of the building.
Two works that relate to the Christchurch's Town Hall can be viewed here and here