B.
A difference of emphasis
Behind the scenes
We recently asked for help in identifying the sitter of a portrait by W.A. Sutton.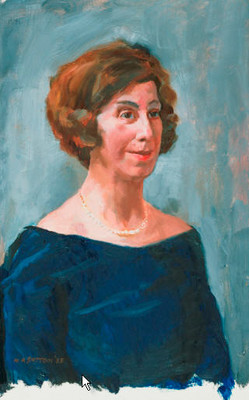 This painting, apparently unfinished, came into the Gallery's collection from the estate of the artist. Why it was still in the artist's studio, and who the subject was, remained a mystery.
But now an alert researcher has brought this entry in Sutton's diary to our notice:
Late in 1983 I had a visit from one of the most handsome women I had ever seen - Mrs. N....G.... she wanted me to paint her portrait, and I was happy to make arrangements for sitting early in 1984. I enjoyed her conversation and she sat in a dark blue velvet frock... She could manage only one morning a week, sometimes only a couple of hours. We settled for a head and shoulders and I laid it in about 3/4 life size. Very pleased with the eye I'd nearly completed; very liquid. However Mrs. G. thought the head too large and wanted something smaller. So next week I started another, under half size. She didn't like that one either- she preferred the head at another angle. .... Had a small canvas ready for the fourth time and started off yet again, keeping the drawing firm at this stage so as to preserve the bone structure. So far so good. The next sitting was disastrous; I had scarcely begun when she said "I haven't got a wrinkled throat like a 60 year old! (she had)..... Looking at my painting she said the cheek bones were too hard - I softened them slightly - I'd given her too much hair (it was piled on her head rather high) - she said the wind must have done that - I cut an inch off with one swipe of the brush. Only then did I realize she wanted to be painted as a young girl - mutton dressed as lamb - and I kept my temper with difficulty.... Instead I said that the painting would have to satisfy me before it left the studio, and she contradicted me and said it would have to satisfy her. Neither of us gave way.