Exhibition
Trusttum: Just a Glimpse
24 October 2018 – 28 April 2019
Exuberant and boisterous, these large paintings by Philip Trusttum will lift the spirits
Now into his sixth decade working as a painter, Trusttum is one of Christchurch's most respected artists. In 2009, just prior to the Canterbury earthquakes, he generously presented ten paintings to Christchurch Art Gallery and this year allowed the Gallery to select a further five paintings for the city's collection.
Trusttum is known for his large, high-energy paintings, often inspired by everyday life. In these works, he responds to his immediate surroundings, painting objects such as his grandchildren's toys on a grand scale alongside works that deal with living in post-quake Christchurch.
Related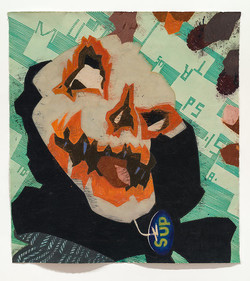 Join guide coordinator Rebecca Ogle as she discusses Philip Trusttum's 2015 painting SUP on display in Trusstum: Just a Glimpse on the first floor.