Exhibition
Michael Parekowhai: Chapman's Homer at the Christchurch International Airport
16 October – 11 December 2015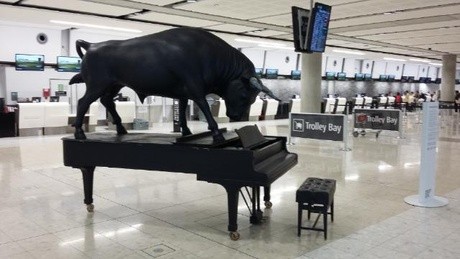 Attention cabin crew: something slightly unusual just landed at Christchurch International Airport
In the winter of 2012 Chapman's Homer became a symbol of the extraordinary resilience of the people of Christchurch—and thanks to the generosity of thousands, the great bronze bull standing on a piano is now part of the city's collection.
Chapman's Homer was initially shown in Madras Street and later at the Arts Centre during the Arts Festival. Next Christchurch City Council hosted him where tourists, council and CERA staff and customers got to see him. More recently, he's been strutting his stuff amongst the building supplies at PlaceMakers Riccarton in the care of key supporters Sandra and Grant Close and delighting visitors to New Regent Street—including Prince Harry! Come December, he'll be on show at our reopened Gallery, but for now he's taken up residence at Christchurch International Airport—a witty and appropriately weighty reminder to all who arrive and depart of the importance of art to the city's rebuild.
Michael Parekowhai is one of New Zealand's most important contemporary artists, known for his witty, larger-than-life sculptures. Chapman's Homer was part of an installation called On first looking into Chapman's Homer created by the artist for the 2011 Venice Biennale of Art. Our bull stood beside his seated brother against the backdrop of post-earthquake central Christchurch, while a red carved Steinway piano was played upstairs in an adjacent building. Over thirty days, more than 50,000 people got out of their cars to see and photograph the two bulls on the edge of Christchurch's red zone.
Purchased 2013 with the assistance of Christchurch City Council's Public Art Fund and Christchurch Art Gallery Foundation; with thanks to Westpac, IAG, Penny and Ben Gough, Chartwell Trust, Ravenscar Trust, Friends of Christchurch Art Gallery, Sandra and Grant Close, Dame Jenny Gibbs, Joanna and Kevin Hickman, Nati and Stewart Kaa, Tony Kerridge, McFadden family, Jenny and Andrew Smith, Chapman Tripp, Colliers, Meadow Mushrooms, MWH Ltd, Pace Project Management, The Press; and with additional thanks for contributions from 1,074 big-hearted individuals and companies.
Related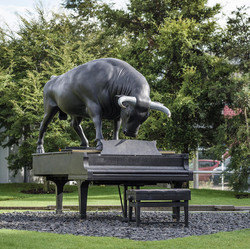 When 'Chapman's Homer' was exhibited at the edge of the devastated central city in 2012, it was positioned between ruin and rebuild just outside the cordon in an empty lot on Madras Street. Our bull stood beside his seated brother while a red carved Steinway piano was played upstairs in an adjacent building. Over thirty days, Parekowhai's work caught the public imagination as a symbol of the resilience of local people. At once strong and refined, a brutal force of nature and a dynamic work of culture, Chapman's Homer resonated with local audiences. Subsequently, a public fundraising campaign kept the bull in Christchurch.
Chapman's Homer was first exhibited in Venice, where Parekowhai represented New Zealand at the 2011 Venice Biennale. It travelled to Christchurch after being shown at the Musée de quai Branly in Paris. Over the past year, we've shown it at a number of sites around the city as part of the Gallery's Outer Spaces programme, including Worcester Boulevard, Placemakers Riccarton, New Regent Street, and most recently at Christchurch International Airport. And now the bull is back – standing strong in its permanent home at Te Puna o Waiwhetu Christchurch Art Gallery, welcoming visitors to our reopening exhibitions.
(December 2015)