Exhibition
Lonnie Hutchinson: Hoa Kōhine (Girlfriend)
Ongoing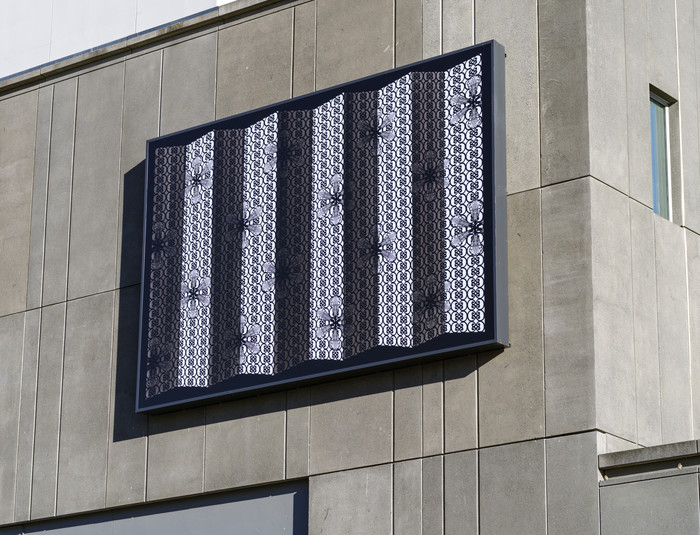 Lonnie Hutchinson's intricately cut-out billboard celebrates supportive friendships between womenLonnie Hutchinson's intricately cut-out billboard celebrates supportive friendships between women
When we invited Lonnie Hutchinson to make a new artist billboard, we asked her to consider the significance of the year 2018. 125 years ago, women in Aotearoa New Zealand claimed the right to vote after a fierce campaign. Hutchinson's work communicates a strong female energy and its title, Hoa Kōhine (Girlfriend), refers to warm and supportive friendships between women.
You may have seen Hutchinson's Kahu Matarau adorning the exterior of a building in the Justice Precinct on Lichfield Street, like the feathers of a kākahu or traditional cloak. The patterns on this billboard use the same feather or teardrop shape, assembled here into flower patterns. Hutchinson was thinking of the European women settlers who brought lace curtains with them from home, as well as customary Māori crafts like tāniko and weaving with muka. "I make work", she says, "about women's histories and the things that women do."
Related
Girlfriend
Lara Strongman: Why did you call this work Hoa Kōhine (Girlfriend)?
Lonnie Hutchinson: The work is very feminine in nature. Because it's the 125 year celebration of women's suffrage in Aotearoa this year, I wanted to refer to women, and to the friendship between women. "Girlfriend" is what women friends call each other, in an affectionate sort of way. Hey girlfriend! And in a text we'll use gf.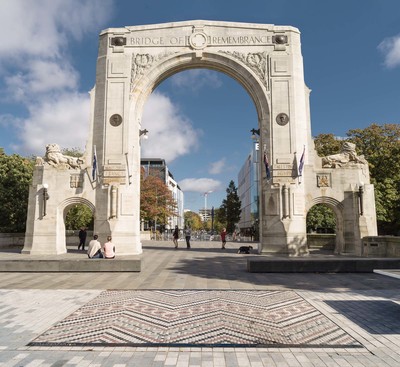 Bringing the Soul
As an eleven-year-old boy from Whāngarei, sent to live in Yaldhurst with my aunt in the late seventies, Christchurch was a culture shock. Arriving in New Zealand's quintessential 'English city', I remember well the wide landscapes and manicured colonial built environment. It was very pretty but also very monocultural, with no physical evidence of current or former Māori occupation or cultural presence, or at least none that I could appreciate at that time.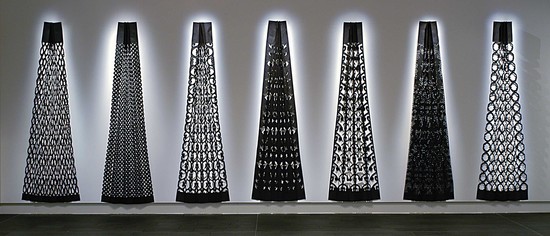 Lonnie Hutchinson's sista7
I am writing about a favourite piece from the Gallery's collection in autumn 2015, when that collection is in storage and the Gallery is closed at least until Christmas, so I'm prompting memory by consulting the online catalogue. It's brilliant: hundreds of images, 90 percent of the entire 7,000 collection, but to be honest, it feels a bit odd.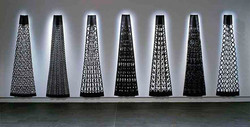 The Seven Sisters are prominent peaks on the undulating wall of the volcanic crater that forms Lyttelton Harbour. This wall – a geographical feature known generically as a 'caldera' because of its resemblance to a Spanish cauldron, or cooking pot – dominated the view from the studio in which Lonnie Hutchinson worked when she made this work. Sista7 is Hutchinson's personal response to the mass and grandeur of this natural landscape – 'my story, my myth'. Cut from building paper, the delicate, interlaced patterns envelop the ancient and solid mountain forms like mists. (Brought to Light, November 2009)
The dimensions given here are for one of this work's seven individual parts. The spacing between each part, and thus the width of the entire work, can vary. In this image from the exhibition Te Puāwai o Ngāi Tahu (10 May – 24 August 2003), the parts are installed 300mm apart.