Exhibition
Kōwhaiwhai
3 September 2016 – 6 February 2017
Five significant works of art that look to traditional Māori architecture to inform modernist and contemporary Māori art practice.
As in Western art history, the development of Māori art maintains a significant connection with architecture. The wharenui (communal meeting house) is a sacred place for ceremony, with wood carvings adorning the interior and exterior of the building according to the whakapapa (genealogy) of its people. Kōwhaiwhai is the painted design on the rafters of the wharenui.
This exhibition features works of art by Michael Parekowhai, Buck Nin, Darryn George, Gordon Walters and Shane Cotton, each of which draws on shapes, forms and concepts within the wharenui for content, bringing them into the hard-edged geometric abstraction of modernist and contemporary Māori art.
Related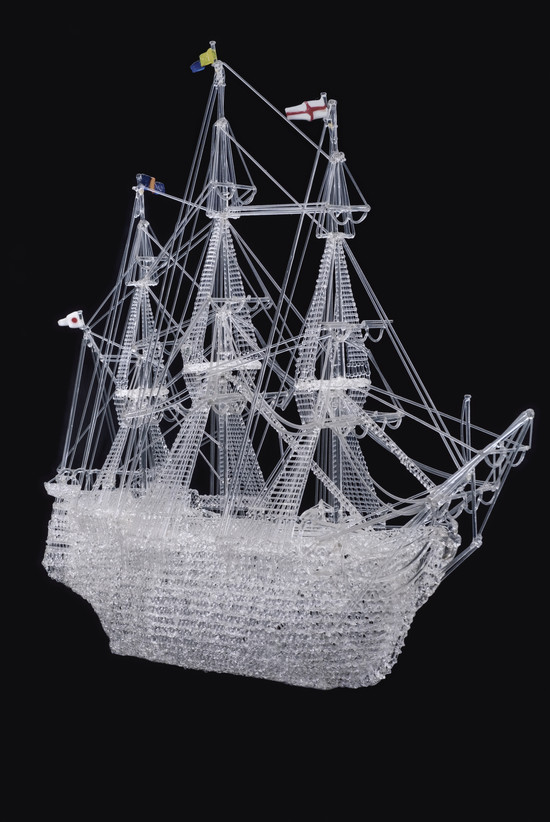 Ship Songs
A small but poetic exhibition looking at early European and Māori representations of seafaring vessels, with the Charlotte Jane as a focal point.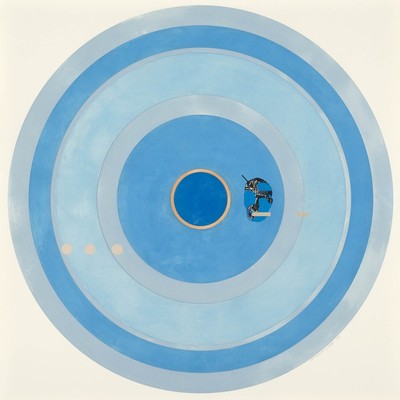 Speaking sticks and moving targets
New works by Shane Cotton
The Hanging Sky brings together Shane Cotton's skyscapes from the past five years. But the core of the exhibition is a big group of freshly made works of art. Senior curator Justin Paton first saw them in completed form during the show's installation in Brisbane. Here he describes his encounters with a body of work 'at once beautiful, aggressive, protective and evasive.'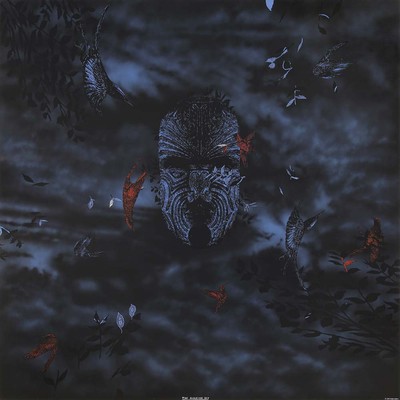 Shane Cotton
Back on 20 September 2011, when our public programmes team began setting up the Hagley Park Geo Dome for a talk with Shane Cotton, they put out about sixty chairs and would have been glad to fill them. After all, it was a cold night in Christchurch, the roads were rough, the Geo Dome was off the beaten track and the quake had long since broken the rhythm of the Gallery's old Wednesday night programme of public talks.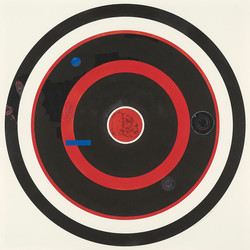 From a distance, these ten works by Shane Cotton have a strongly graphic quality. They look like a row of archery targets, or a series of pulsing GPS locator beacons zeroing in on a significant location. But when you get up close, the surfaces of Cotton's circular forms appear softly weathered, as if the pressure of the world around them has worn them away slightly. You become aware of the small painted motifs within the concentric circles—heads, texts, bars, dots, smaller targets, ancient presences. And suddenly, rather than looking like something that belongs to space, like the trajectory of an arrow or the flight plan of a plane, you see that the works might equally be concerned with time, that the bands of colour might be read as the rings of a tree or as a model of eternal return.
The works themselves took several years to make. In 2009, Cotton spent a couple of weeks in Israel working with the Gottesman Etching Center to produce the circular forms. (The colours are drawn from the Israeli and Palestinian national flags, as well as the tino rangatiratanga flag and Cotton's impressions of the landscape.) They're monoprints, which means they exist as single images pulled from the printing press—essentially, they're printed paintings. When Cotton got back to New Zealand, he put the sheets away for three years, finally adding the smaller motifs over the etched surface by hand.
The heads in the images are toi moko, or mokomokai, preserved and tattooed Māori heads. Cotton has worked for many years now from a copy of a photograph of Horatio Gordon Robley, a colonial soldier and artist who fought in the New Zealand wars, with his collection of heads displayed on a wall behind him. It's a horrific image, a deeply shocking one. "I wanted to see whether I could take a heavily laden image from our history and say something different with it. […] I think they're really about what it means to have and hold on to a memory or retain a likeness, which is also what painting was historically about. So I thought I'd start painting them and see what happened."
(Your Hotel Brain 13 May 2017 - 8 July 2018)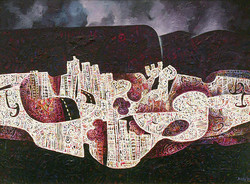 For the exhibition Untitled #1050 (25 November 2017 – 14 October 2018) this work was displayed with the following label:
"Land is essential to the Māori people because it's been used by the ancestors for centuries. I believe that during that time, of centuries past, there has been a spiritual content left in the land. This spiritual content infuses and gives soul to the land and in turn the land gives it back to us and humanises our soul because of our ancestors."
In this painting Nin's inspiration is the Mamaku Range lying just West of Rotorua. Landforms have been simplified while an abstract pattern based on the traditional prow and stern carvings of the famous 200 year old Māori war canoe, Te Winika, has been overlaid.
Nin said, "I've taken that whole aspect of the canoe prow and the stern post and looked at it and planted it on my painting so that you look through the lattice-work, as it were, into the land, through into the soul of the land."
Studying art at Ilam Art School here in Christchurch during the 1960s, Nin emerged as a modernist painter interested in abstraction which he combined with Māori culture. His time at Ilam "opened the door for me to bridge the gap between the Pākehā world […] and the Māori world. My paintings are a synthesis of the bi-cultural situation that we have here in New Zealand."
—Buck Nin, 1981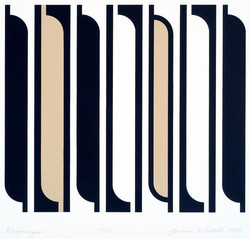 The rauponga is a traditional design found in Māori carving, made up of pākati or dog-tooth notches with, on each side, haehae or parallel grooves and raumoa or ridges holding the pākati within. The number of rows of haehae and raumoa varies. Often used to adorn the body of carvings, or occupy space in a carving, the rauponga design is usually rich in detail. Gordon Walters has sought the essence of rauponga and expressed this in the simplest form possible. The forms we see here are not really rauponga at all, but spaces where rauponga once was. What Walters has maintained is a sense of the visual rhythm and energy of the traditional form in an eye-pleasing arrangement. Colour is used to activate a sense of space as the blacks are pushed to the front, and the light earth tones occupy forward and background space while alerting the eye to some harmonious and compelling moments. The overall feeling is lyrical, light and harmonious as the eye is offered a satisfying sense of rhythm and space. Walters' use of Māori design has, in the past, come under scrutiny. Because he holds no lineage to the designs themselves, the response for Māori is concerned with issues of cultural appropriation – a line of criticism which holds in account the skilfulness, mindfulness in conception and masterful execution of this work.
(Kōwhaiwhai 3 September 2016 – 6 February 2017)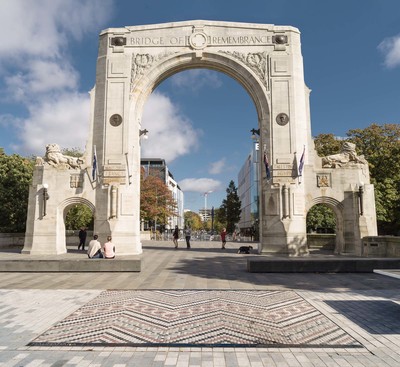 Bringing the Soul
As an eleven-year-old boy from Whāngarei, sent to live in Yaldhurst with my aunt in the late seventies, Christchurch was a culture shock. Arriving in New Zealand's quintessential 'English city', I remember well the wide landscapes and manicured colonial built environment. It was very pretty but also very monocultural, with no physical evidence of current or former Māori occupation or cultural presence, or at least none that I could appreciate at that time.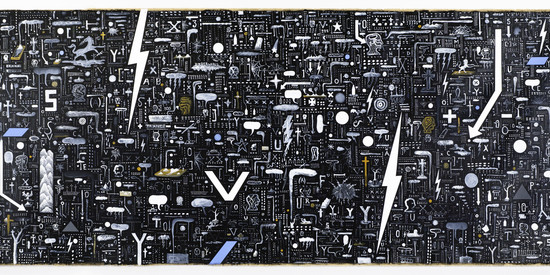 Your Hotel Brain
Energies and anxieties from the threshold of the new millennium.
The Devil's Blind Spot: Recent Strategies in New Zealand Photography
Recent photography by an emerging generation of New Zealand artists.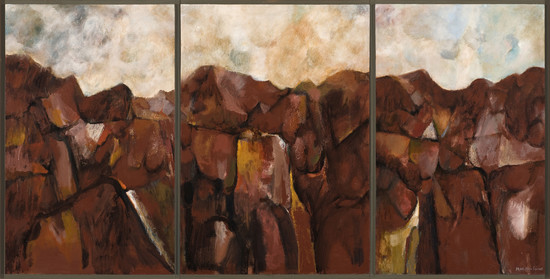 He Rau Maharataka Whenua: A Memory of Land
Canterbury modernist landscape painting from the collections of Te Puna o Waiwhetū Christchurch Art Gallery, poignantly revised from within a Kāi Tahu perspective