New Zealander, b.1917, d.2000
Hills and Plains, Waikari
Purchased1989
Oil on canvas board
1000 x 1292 x 60mm
89/143
1956
About the artist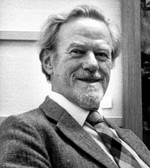 William (Bill) Sutton spent most of his life in Christchurch, apart from two years from 1947–49 studying and painting in Britain and Europe. This time away helped attune his eyes to the distinctive qualities of the local regional landscape. Teaching full-time at the Canterbury College School of Art from that time, Sutton lived in a rented studio flat overlooking Victoria Square and became the owner of a Matchless motorbike – upgraded to a 500cc BSA Golden Flash in 1956 – on which he'd leave the city on his weekends in pursuit of countryside to paint.
Human presence has reshaped this landscape, with its bending macrocarpa windbreaks, simple corrugated iron structures and undulating patchwork fields. A palette of subtle ochres, greys and gold presents a characteristically Canterbury scene and typifies the work for which Sutton became appreciated and known.
(Beneath the ranges 18 February – 23 October 2017)
earlier labels about this work
The hot, dry nor'west winds that are such a persistent feature in the Canterbury landscape drive some residents to despair, but the conditions were something that Bill Sutton revelled in. He wrote ofhis love for this unique feature of Canterbury:

[…] especially the skies, because of the föhn winds which come from Australia and behave rather unkindly on the West Coast and then come over to Canterbury and behave much more beneficently over us, blowing hot air which I enjoy enormously. And the clouds which accompany these pleasant physical processes are enchanting in shape. Long lens-shaped cumulus clouds, which always fascinate me because there's so much freedom of construction among them although they belong to a specific family. I can parallel or relate these shapes to land shapes to shadow shapes, so that it's a splendid motif to seize upon – the shape of the cloud – and echo it through the whole landscape.
Related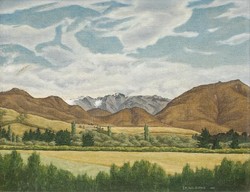 After a stint at the Wigram Air Force Base in Christchurch with the Royal New Zealand Air Force during World War II, Douglas MacDiarmid found the need to get away to the country for a well-earned sketching holiday. It was here that Hills from Annat was completed. He said of this time:
'I had been able to lay my hands on the last covered wagon in the South Island, also to hire a fine white mare. Off we drove in a flourish then for a month, Blanche, Buddy, me. We were headed for the rolling country where the Canterbury Plains are not yet hills finishing as Alps. At no more than a clip-clop pace it is possible to approach with peaceful observation, meditation merging as no motor vehicle will allow.'