Purchased 1973
Enamel on wood with plastic
913 x 915 x 70mm
73/248
1972
This work was first shown in the exhibition D.E. Peebles: Paintings at the Canterbury Society of Arts in July 1973, where it was purchased by Muir for the Gallery. The artist's accompanying statement for the exhibition sums up the thinking behind his Relief works: Construction, for me, is not a style but simply a method. Neither my reliefs nor my paintings derive from any strict mathematical basis but are assembled with a free sense of order, more characteristic of the painter, than of the function-influenced architect or designer. The narrative aspects of Art are of less interest to me than the more purely visual and private impulses – if such elements as colour, light, line, form, mass, volume are intimately experienced, they too can result in a very personal statement.
(1969 Comeback Special 27 August – 6 November 2016)
Related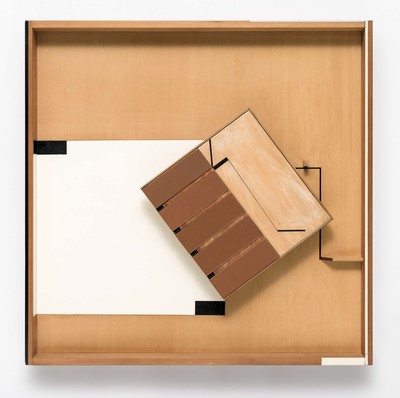 Don Peebles: A Free Sense of Order
There's a wonderful film on Don Peebles in the Gallery's archive that provides a fascinating insight into the artist's practice. Produced around 1980, it shows Peebles working in his studio and walking through his garden, past the fruit trees to his shed down the back, with an audio interview overdubbed. My favourite scene shows the artist in the shed with a box full of various wooden shapes that he has collected over the years, which he takes out and loosely assembles on a small sheet of plywood – a free sense of order created out of these seemingly random pieces.