The Jim Barr and Mary Barr Gift, 2011
Wood and acrylic paint
456 x 382 x 325mm
2011/252
2004
Works of art aren't as well behaved as they used to be. Once upon a time, they stayed where they were put, hanging obediently off picture rails or perching politely on pedestals. Since the arrival of the Duchampian readymade, however, many require a second glance to distinguish them from the world around them, as everyday objects are pressed into service in new, perspective-tilting contexts. There's another kind of work too, the type Glen Hayward is known for: the readymade's stealthier cousin. Meticulously, even obsessively, crafted to resemble objects you wouldn't give another glance, these unobtrusive double agents aim to blend in, adding a subversive frisson to the gallery experience.
(Unseen: The Changing Collection, 18 December 2015 – 19 June 2016)
Related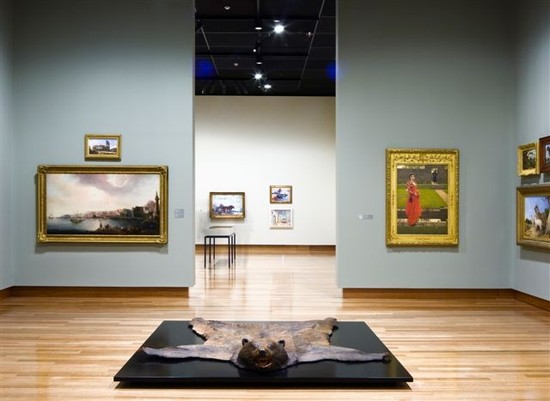 Brought to Light
Finally, it's finished! It is now four months since we closed the doors on the previous incarnation of Christchurch Art Gallery's collection exhibition, and the intervening period has been a very busy time for all our staff. When Christchurch Art Gallery opened in 2003, the plan, reiterated in the Paradigm Shift document of 2006, was to refresh the hang of the collection galleries after five years. Since then the display has of course not remained entirely static, and visitors will have noticed regular changes as new works entered the collection, light-sensitive works were changed and small focus exhibitions created. But Brought to Light: A New View of the Collection is something altogether more-a refreshment of our entire collection display (not just what, but why) and a re-evaluation of the physical space of the galleries themselves.