New Zealander, b.1902, d.1994
Plain and Hills
Purchased 2003
Oil on canvas board
482 x 545mm
2003/95
1936
In 1930s New Zealand there was wide discussion about what was unique about the New Zealand situation; what it was that made us different from the rest of the world. Artists and writers began exploring ways to identify our national identity. A number of artists began painting the Canterbury High Country, most famously Rita Angus and her landscape painting of the railway station at Cass. One reviewer in 1936 observed that there was a new quality in the landscapes exhibited in Christchurch that seemed 'to consist in a removal of the romantic mists which used to obscure mountains and the Canterbury countryside generally. The light now is clear and hard, the colours are in flat planes, and the effect is of seeing the country through a gem-like atmosphere. There is also a new romantic standpoint – an insistence on the isolation and brooding loneliness of the hills.' It's a statement that certainly rings true with the Canterbury paintings of Rita Angus, Leo Bensemann, Louise Henderson, Rata Lovell-Smith and Bill Sutton.
(March 2018)
earlier labels about this work
Mystery still shrouds the exact location shown in this work by Louise Henderson, but the vista, as well as the work's date, make a convincing argument for it being painted on the same inland venture with fellow artists Julia Scarvell and Rita Angus in 1936, when Angus painted Cass.

'Those passes and those routes – Noti Raureka [the Browning Pass], Tiori Pātea [Haast Pass] – they were 
all done and opened up with Māori guides, even though they've been named by Pākehā surveyors since.' —Sir Tipene O'Regan

Late in her career Louise Henderson recounted her time in Christchurch during the 1930s, calling Christchurch "a cultured place, dull but sound". She compared her own working process to that of her contemporary Rita Angus: "I worked on a big area, involving the intellectual process of the work itself, the overall structure and concept. Rita worked in small areas, built up the surface, bit by bit; there are more surface marks in her work."

The two artists were firm friends and often made painting trips together out into the Canterbury landscape in Henderson's car – their most famous trip was to Cass in 1936, after which Angus painted the exemplary Cass, which is shown to the left of this work. Henderson said of their connection, "It was good to have another artist to talk to. People didn't approve of woman artists in New Zealand either. I was used to that. It was not new to me because my own mother had never approved."

As with Angus, Henderson's love of the Canterbury landscape is evident in her paintings. She commented, "I thought the South was very beautiful. I learnt to sleep in my sleeping bag and stay out in the bush at night, under a tree. I enjoyed all that tremendously."

Louise Henderson completed Plains and Hills after visiting the Cass region in the Southern Alps west of Christchurch in May 1936. Henderson travelled to the region with fellow artists Rita Angus and Julia Scarvell. The trio stayed at the Canterbury College Biological Station and made daily outings into the surrounding countryside to sketch. Henderson and Angus developed a strikingly similar style, most obviously in their use of defined shapes, blocks of strong colour and a clear pervading light.

Born in France, Louise Etiennette Sidonie Sauze studied at the School of Industrial Arts in Paris. She married Hubert Henderson and came to live in Christchurch in 1925. She taught in Christchurch and Wellington until 1950, then moved to Auckland where she took up painting full time. In 1952 Henderson studied in Paris under the cubist artist Jean Metzinger (1883–1956). She later taught at Elam School of Art in Auckland and briefly at Darlinghurst School of Art in Sydney. (Label date unknown)
Related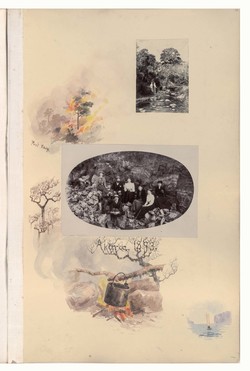 Exquisite Treasure Revealed
Canterbury Museum holds two albums compiled by Diamond Harbour artist Margaret Stoddart. The older of the two, containing images featured in this Bulletin, and itself currently exhibited in the Gallery, covers the period 1886–96. The album is handsomely bound in maroon, and stamped M.O.S. in gold. It contains a sort of travelogue by way of black and white photographs set amongst decorative painting, mostly of native flora, with some locality and date information.