b.1942
Close: Drawing no. 3
Purchased, 2002
Charcoal on paper
1500 x 1000mm
2002/261
2002
One of three large charcoal drawings (from part of a series entitled Close), depicting the artist's husband Steve. This series of work is a journey around the intimacy of Hollis's relationship with Steve, who is suffering from a degenerative illness. Rather than simply being a 'portrait project' the drawings document the dialogue/communication between them and the physical and psychological changes happening to him. He is not drawn all in the same way, the artist being 'obsessed' with drawing, explores a larger tradition and experiments with different techniques. The title of the exhibition indicates physical nearness as well as psychological closeness as well as the changes happening to Steve, revealed through the close focus of the face. As the artist says " What is happening to us is really it. Because Steve is not well, my doing this project brings into question the issue of that fine line between empathy and exposure. I did the drawings for both of us, and the viewer - to honour people by treating them honestly, letting them into your life".
Related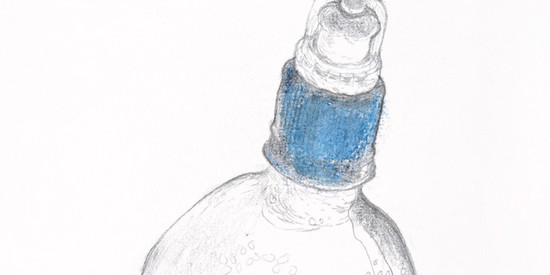 Stereoscope: Kristin Hollis
Drawings of two bottles - one of gin, one of water – grace the Montreal Street side of the Christchurch Art Gallery bunker in the latest offering in the Stereoscope series.